How to Make a Twin Bed Look Like a Daybed
An unused twin bed converts into comfortable daytime seating, an impromptu guest bed or an afternoon napping destination. With a light makeover your bed can quickly resemble a daybed. This convenient piece of furniture seamlessly fits into a living room, den, recreational room, guest bedroom or enclosed porch. Strip away the day-to-day bedding and pillows to make this piece of furniture worthy of everyday guest use in less than a few hours.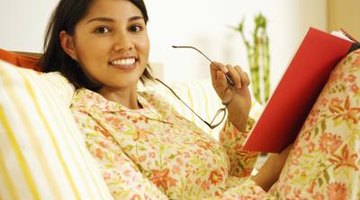 Step 1
Give the bed a chaise lounge look by completely removing the head and footboard. Or make the bed match the room's existing furniture by attaching a headboard and footboard that complement the existing wood or metallic decor.
Step 2
Cover the bed with a solid-color bedspread. Choose a hue that complements or harmonizes with existing colors in the room. Avoid using patterned bedding if you want the daybed to look like additional seating rather than a sleeping area.
Step 3
Attach a dust ruffle to the base perimeter of the bed. Choose a floor-length style to conceal the bed's legs, giving the furniture a finished look. Pick a dust ruffle the same color as the bedspread or choose a shade lighter or darker than the bedspread to add contrast.
Step 4
Position bolsters on each of the narrow ends of the bed to act as arm rests. Arrange decorative, rectangular-shaped pillows between the two bolsters. Layer the pillows in a colorful pattern to coordinate with the color scheme of the room. Ample pillows make guests sit toward the front edge of the bed, similar to couch seating.
Step 5
Place a small end table and lamp at one end of the bed to encourage daytime use of the seating. Encourage guests to use the table to hold beverages or books. Keep collapsible tray tables nearby if the bed will be used during a meal, while working on crafts or when studying.
References
Resources
Tips
Store a tote of bedding under the twin bed to use for overnight guests. The dust ruffle conceals the conveniently placed bedding.
When using the twin bed as a daybed in a room with a couch or loveseat, make the room look cohesive by using the same style of accent pillows on each piece of furniture.
Writer Bio
Angela Tague writes marketing content and journalistic pieces for major brands including Bounty, The Nest, Lowe's Home Improvement and Hidden Valley. She also provides feature content to newspapers and writes health and beauty blogs for Daily Glow, Everyday Health and Walgreens. Tague graduated from the University of Iowa with a bachelor's degree in journalism and mass communications in 1999.
Photo Credits
Jack Hollingsworth/Photodisc/Getty Images
More Articles