How to Modernize Cherry Bedroom Furniture
If you have bedroom furniture with a cherry finish and feel it's a bit too old-fashioned, there are a number of things you can do to give it a little kick and a more modern appearance. You don't have to spend much money as long as you have a plan in place and know the look you're shooting for. The first thing you need to decide is what kind of bedroom you would like to retire to at night.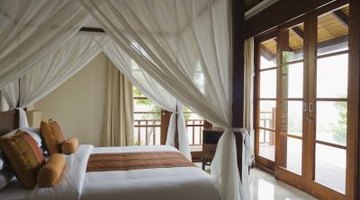 Step 1
Give the bed an ultra-modern look by removing the headboard and footboard. If you're looking for a clean, modern room, remove any ornamentation, as well. Simple, clean lines automatically give your bed a modern edge. If your nightstands or dresser include ornate scrolling, use a screwdriver to remove it. After removing pieces of trim, sand the entire piece down to the natural wood grain and re-stain it by brushing on a combination of stain and sealer.
Step 2
Paint your cherry furniture piece. White enamel paint can help you design a dreamy room, black gives you a sharp, modern edge and cream or beige can be used as the basis of a shabby-chic or a French provincial look. Prepare the surface of the furniture by sanding away loose varnish and wiping away dust with a piece of cheesecloth. Prime the pieces, allow them to dry thoroughly, and apply the enamel paint of your choice.
Step 3
Update the bedding. Choose bedding with clean lines, and steer clear of florals for a fresh, modern appearance. Solid colors and simple patterns make for the most crisp, updated look. For a fully coordinated look, match your sheets with your bedspread, and if applicable, with the bed skirt and pillow shams.
Step 4
Surround the furniture with updated, contemporary pieces. These may include a clean-lined chair, simple candlestick or an unadorned picture frame.
References
Warnings
While some furniture refinishers recommend both enamel and automotive paint, there is concern that the isocyanates that help automotive paint harden can be toxic.
Writer Bio
Dana Sparks has been a professional writer since 1990. As a staff reporter, she has written hundreds of newspaper and magazine articles, and she is also the author of two published novels. Sparks holds a Bachelor of Arts in business.
Photo Credits
Jupiterimages/Polka Dot/Getty Images
More Articles