What Is Brocade Fabric Used For?
Brocade is a rich fabric woven with a raised design. It resembles embroidered material, but the patterns are not stitched on; they're created with extra weft threads as the fabric is woven on the loom.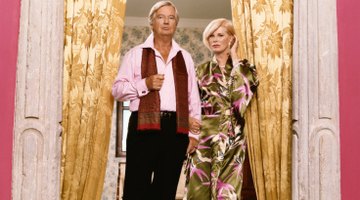 The traditions of many cultures feature fine brocade fabric, from gold-threaded Indian saris to the silk robes of Chinese nobility to the elaborate blouses woven and worn by the Mayan women of the Central American highlands. Today, brocade is reserved for elegant decor and more dressy occasions, and is often made from fabrics with a high sheen.
Dress Clothing
Brocade may occasionally show up in a quirky pair of ankle boots or a vest, but the luxurious fabric is a staple of high-style evening wear. Don't look for stiff little dresses or sweeping ball gowns in fashion boutiques. Today's brocade is sumptuous, soft velvet, silky and shimmering with all the old allure of expensive, exclusive design, repackaged as unpredictable au courant couture.
Traditional Clothing
In many cultures, brocade weaving is still a handmade art, and clothing made from it is used for both special occasions and everyday wear. You are likely to find elaborate woven cotton brocade in a huipil worn by a Mayan woman on her way to the Sunday market. African textiles used for hats and wraps might also be brocade cloth, using a technique imported from Europe but adapted to local patterns and colors.
Drapes
Brocade drapes are elegant and formal, and most often used in living and dining rooms or master bedrooms. They can be heavily patterned or subtle, but are typically made of silk and lined. Brocade drapes may be bordered in a solid color or sweep the floor in a long swath of material, topped by a curve of the same brocade used as a valance. Floor-to-ceiling brocade drapery that mirrors the color of the wall paint avoids "chopping" the room and creates a sense of grandeur and space, even in a small area.
Pillows
Brocade pillows underscore the formality of a traditional space and add some glamorous gravitas to a modern hybrid room. Their gleam and detail work anywhere, from a duvet-covered period bed heaped with pillows to a damask draped daybed to the corner of a velvet settee. Try oversize brocade floor pillows for something different in a living room that doubles as the family's media room – the design hides a bit of soil and won't show mild wear from use.
References
Writer Bio
Benna Crawford has been a journalist and New York-based writer since 1997. Her work has appeared in USA Today, the San Francisco Chronicle, The New York Times, and in professional journals and trade publications. Crawford has a degree in theater, is a certified Prana Yoga instructor, and writes about fitness, performing and decorative arts, culture, sports, business and education .
Photo Credits
Digital Vision./Digital Vision/Getty Images
Digital Vision./Digital Vision/Getty Images
More Articles