Difference Between Terry Cloth & Fleece
Terry cloth and fleece may both have the characteristics of being warm and cloth-like materials. We also find these two fabrics in many of the things we own, from sweaters to robes and towels. However, terry cloth and fleece are made from very different materials that have differing qualities.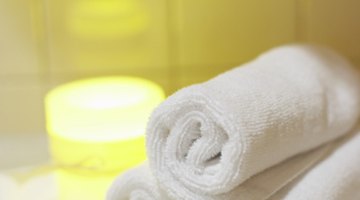 This means that a robe that is made from fleece may not function as well one made of terry cloth.
Terry Cloth
Terry cloth is made out of cotton or a cotton-polyester blend. This material is woven into loops using a loom, which allows the fabric to become soft and plush to absorb more moisture than a flat fabric would. Sometimes a coat of starch, urea, or wax is added to make the weaving process a little smoother. Patterns aren't usually woven into terry cloth, as the way they are made means the pattern may not hold. Instead, the fabric is most often bleached white or dyed different colors.
Terry Cloth Uses
Terry cloth is usually used to make bath and beach towels, because the material is incredibly absorbent. Terry cloth is also used to produce comfortable bathrobes, pool robes and slippers. This fabric is sometimes used in home decorations for rugs, cushions and chair covers. The highly absorbent quality of terry cloth also makes it an ideal material for sportswear accessories and head and wristbands. Many baby items are made out of terry cloth; for example, baby bibs, washcloths and plush toys.
Fleece
Fleece is not a natural material and is made instead of 100 percent polyester, which itself is made from recycled plastic. This means fleece is incredibly durable. It is similar to wool in texture, but is much lighter in weight. The fact that fleece is made from polyester means it does not absorb water, break down easily or absorb odors. These factors all make fleece a good insulation material.
Fleece Uses
The durable and lightweight quality of fleece makes it good material for sweaters, jackets, blankets and other products that require a warm, dry material. Many kinds of outer wear designed for backpackers and hikers are made of fleece. Fleece is also used to make deep-sea diving suits and underwear for astronauts.
Resources
Writer Bio
Chrys Lin has been working professionally in journalism since 2003. Her work has appeared in publications in the United States and parts of Asia. She currently resides in Texas and holds a Bachelor of Arts in print journalism.
Photo Credits
Jupiterimages/Photos.com/Getty Images
Jupiterimages/Photos.com/Getty Images
More Articles