Microfiber Vs. Fabric Couches
Microfiber and cloth coverings have distinct advantages and disadvantages, and knowing them will help you choose the best covering for you. The sofa is often the most expensive piece of furniture in the house, and its covering must be suitable to the needs of the family while adding to the style of the room. The covering that is best for you is the one that meets these needs; make a list of the living room activities and select the sofa covering based on this list. Microfiber is a fiber but the word is frequently used to refer to both the fabric produced and the fiber.
Advantages of Microfiber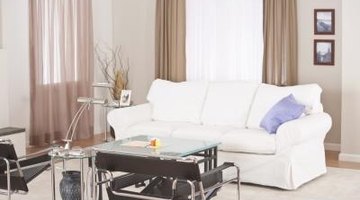 Microfiber is a hypoallergenic product of the petroleum industry. The fiber is one-sixth the diameter of silk, one one-hundredths the diameter of human hair. This fractional thickness allows for many more fibers per inch than thicker fibers, making a strong fabric, highly resistant to rips, tears and cat claws. Some microfibers may be cleaned with water-based cleaners. It feels soft, the colors are pigment dyed, and it resists sun fading.
Disadvantages of Microfiber
Microfiber is rarely printed or textured; the surface tends to be even-colored with little definition. Even small stains will appear prominent, and hand impressions and clothing drag lines will stay visible until smoothed over. Stain removal may be performed with solvents only, which can be problematic for some households. Pet hair sticks to microfiber and it tends to warm quickly to the touch. Wrinkle removal is difficult because the fabric has little heat tolerance.
Advantages of Cloth
Cloth sofa fabric can be woven of 100 percent natural fibers or a blend of man-made with natural fibers that are added for strength or durability. The colors, weight, patterns and prints available in cloth fabrics are seemingly limitless. Cleaning of cloth sofas is dependent on the fibers in the fabric. Steam cleaning is the most common method and is often done without chemical cleaners. Man-made, or a fabric that is predominantly man-made, will feel cool to the skin initially and stay cooler for a longer time than man-made only fiber fabric.
Disadvantages of Cloth
The sun will fade most sofa fabric. The more natural fiber the fabric has in its composition, the quicker the fading happens. Fading also weakens the fibers, resulting in increased tearing and ripping on the seams and at stress points. Matching fabric for repair is often difficult because upholstery fabric is usually only printed for five years. Even stain-treated fabric may stain, and some upholstery fabrics are cleaned with solvents only, while others cannot be cleaned. Upholstery fabric may contain polyester or other fibers that are products of the petroleum industry.
References
Resources
Writer Bio
Linda Erlam started writing educational manuals in 1979. She also writes a biweekly newspaper column, "Design Dilemmas," in the "Lakeshore News" and has been published in "Design and Drapery Pro" magazine. Erlam is a graduate of the Sheffield School of Interior Design and is a practicing interior decorator and drapery workroom operator.
Photo Credits
Comstock Images/Comstock/Getty Images
More Articles