Faux Vs. Micro Leather
Faux leather and microfiber are durable, stylish fabrics that can be printed in a variety of patterns, textures and colors. Faux leather is also stain-resistant and often more economical than genuine leather.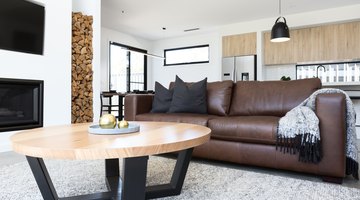 Faux leather and microfiber are excellent alternatives to genuine leather. Both are synthetic forms of leather and offer substantial style and durability. This makes both materials perfect for those who prefer to spend less time maintaining them and more time enjoying the products made with them.
What Is Micro Leather?
Micro leather, or microfiber, is artificial leather; it consists of tiny, synthetic fibers that are finer than human hair. Because these microfibers are woven together so tightly, this results in a denser fabric that can undergo a suede finishing process. Micro leather is resistant to fraying, offers great breathability, and is lightweight and non-fading. This type of material is very durable and comes in a variety of attractive textures, colors and styles.
What Is Faux Leather?
Faux leather is the name given to describe synthetic leather products; these products are made from fabric, rather than an actual animal hide. There are two primary types of faux leather construction. One is polyurethane, or PU, and the other is polyvinyl chloride, or PVC. Faux leather offers several advantages to real leather. It's highly durable, comparatively affordable and easy to maintain. Unlike genuine leather, faux leather does not retain moisture, which means it will not become cracked or warped. Faux leathers can be printed in a wide variety of patterns, textures and colors.
Real Leather vs. Imitation Fabrics
Leather, of course, is made from the hide of a cow or other animal that has undergone a tanning process. While leather is durable and holds up well to daily use, it is also susceptible to wrinkles and other marks in the fabric. Since animals are involved in the manufacturing process, real leather may not be the best choice for families that are vegan or cruelty-free.
Tip
When choosing a sofa or other piece of furniture, remember that dark colors tend to wear better than light colors.
Cleaning Your Microfiber and Faux Leather
Caring for your microfiber and faux leather is simple; both types of fabric are stain-resistant and easy to maintain. Though dirt can get ground into the upholstery as with any other type of fabric, it's easy to remove it by vacuuming. In addition, faux leather is much more resistant to cleaning solvents and detergents than genuine leather. This means that you can use a mild detergent to clean your faux leather fabrics, provided that you also rinse them with plenty of warm water. You can also spot treat stains with water and a small amount of detergent, taking care to blot stains rather than scrub them. Finally, keep in mind that faux leather fabrics should never be placed in the washing machine.
References
Writer Bio
Justine Harrington is a writer and editor based in Austin, Texas by way of Oklahoma. Find out more at www.justineharrington.com
More Articles