How to Attach a Curtain Room Divider to a Drop Ceiling
Curtains can be used for many purposes, from covering a window or blank wall, to a room divider to add privacy and character to an otherwise wide-open space.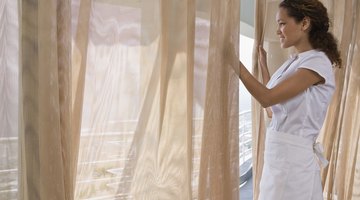 When hanging a curtain room divider from a drop ceiling, curtains can be hung in a number of ways, including hanging curtain rods, a pulley system or curtain track system. Installing a track system for your curtain room divider can be completed in about an hour or less.
Things You Will Need
Measuring tape
Curtain track or wire system
Curtain room divider
5 to 15 track sliders (depending on length of track)
5 to 15 curtain rings (depending on length of curtain)
Screwdriver or electric drill
Measure across the room where room divider is to be placed, and obtain a curtain and curtain track in the appropriate lengths.

Screw curtain track into ceiling where the curtain is to be hung, following the appropriate manufacturer's instructions.

Insert between 5 and 15 track sliders into track, spaced evenly with the loops in your curtain, following manufacturers instructions.

Place curtain rings into curtain loops at the top of your curtain to match up with the track sliders. Take care to place rings on the curtain so the front of the ring corresponds with the front of the curtain.

Slip the curtain loops onto the track sliders to hang your curtain.
References
Writer Bio
Jordan Gaither is a degree-holding communications major with a successful freelance career. He's been writing professionally for over a year, and has just recently made the jump to full-time freelancer. Among others, he's been published by Internet Brands, Apartment Ratings, eHow, CV Tips and the Examiner.
Photo Credits
Jupiterimages/Comstock/Getty Images
Jupiterimages/Comstock/Getty Images
More Articles