Different Ways to Hang a Window Scarf
Window scarves are eye-catching window treatments and can be hung on individual hooks on either side of a window or threaded around a curtain rod, depending on your preference. Make your own in a simple design or buy one ready-made.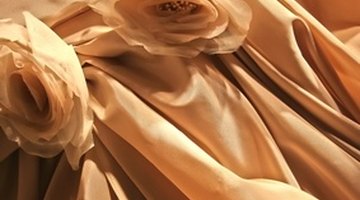 The best fabrics for window scarves are lightweight, easy to drape and fall in soft folds.
The Rod's the Thing
Buy a decorative curtain rod with knobs on each end in a style that complements your decor. Wrap the fabric around the rod two or three times loosely to allow it to drape. For an interesting effect, double up the scarf in a complementary or contrasting color. Hang the scarf asymmetrically for a dramatic effect or evenly for a sense of balance.
Loops and Hooks
Use loops or hooks on either side of the window about 3 to 6 inches higher than the frame. Loops are a good alternative if you don't want to put a rod up. You can find these at most home decor or hardware stores where window treatments are sold. Using hooks or loops makes your scarf look more like a valance than a loose scarf. Ensure the loops or hooks are wide enough to hold your chosen fabric.
The Floating Cloud
A fishing line drawn taut between two eyelet hooks becomes a nearly invisible rod for your scarf. The purpose of this type of treatment is to give your scarf the effect of floating above the window. For best results, the scarf should be a very light, sheer fabric, and the eyelet hooks should be installed about 3 to 6 inches above the window on either side.
The Double Wrap
Two scarves in contrasting colors draped across a decorative rod give your window a creative vibe. For the double wrap, drape the two scarves in opposite directions. The fabric should drape loosely and wrap around the pole once or twice, depending on the size of your window.
References
Resources
Writer Bio
Based in Dallas, Sophia Cross has been a writer for more than 16 years. She began her career with a local newspaper and has also worked as a realtor and social worker. Cross holds a Bachelor of Arts in history.
Photo Credits
detail of dress image by araraadt from Fotolia.com
detail of dress image by araraadt from Fotolia.com
More Articles