How to Hang Window Treatments With Rubber Bands
Using rubber bands to hang window treatments has the advantage of requiring little or no hardware -- and rubber bands won't harm fabrics the way clip-on curtain rings or drape hooks can. Rubber bands also work well to secure no-sew or traditional window treatments, including scarves, sheets, Indian bedspread swags or valances. You can even loop rubber bands through tab-tops or curtain rings on curtains to hold the curtains up without a rod.
Puffed Valance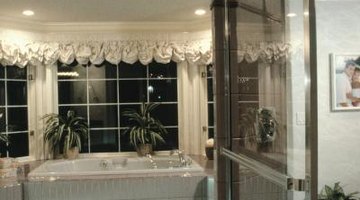 Step 1
Hang a valance with rubber bands around the valance at even intervals. This creates a no-sew window treatment with a short curtain that doesn't have a curtain rod pocket or rings. Stretch wide rubber bands over the valance or a wide strip of fabric, tucking the valance hem behind the spring rod.
Step 2
Put a rubber band around the valance every 6 to 10 inches to create puffs of fabric, like a puffed sleeve effect. Hold the curtain carefully so it doesn't slip off the tension rod. Use a stepladder, if needed, to reach the top of the window.
Step 3
Compress the spring rod, and position it at the top of the window inside the frame. Adjust the puffs to make them even.
Top-Mounted Curtain
Step 1
Hang two rubber bands from the top of a window frame, with one at each side and 2 to 3 inches from the edges of the window glass. Covering the window completely, from the top of the window frame, helps to save energy by reducing hot or cold air from coming in at the top of the window.
Step 2
Insert a clear pushpin in the top of the window frame, or screw a decorative hook or a screw-in knob, such as a dresser pull, into the wall, 1 inch above the top of the frame. Hang the rubber band over the hardware.
Step 3
Slip the end of a scarf or sheer curtain panel through each rubber band. Adjust the fabric to create a swag effect; this window treatment hangs down in a smile shape, with the ends of the fabric hanging down to frame the top of the window. Alternatively, use a long curtain panel to frame the entire window.
Writer Bio
Gryphon Adams began publishing in 1985. He contributed to the "San Francisco Chronicle" and "Dark Voices." Adams writes about a variety of topics, including teaching, floral design, landscaping and home furnishings. Adams is a certified health educator and a massage practitioner. He received his Master of Fine Arts at San Francisco State University.
Photo Credits
Jupiterimages/Photos.com/Getty Images
More Articles