How to Remodel a Single-wide Mobile Home Into a House
Remodeling a single-wide mobile home to resemble a traditional house does not require hiring a professional. If you have basic carpentry skills, this task can be done by many do-it-yourselfers. Mobile homes commonly are built with items not found in traditional homes -- for example, wood paneling.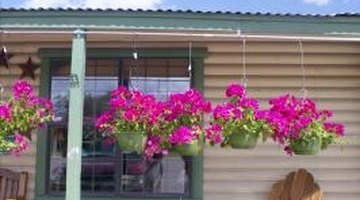 Primer and paint will make a wall look like drywall instead of a wood-paneled wall. Allow sufficient time to remodel your single-wide mobile home into a house.
Things You Will Need
Pry bar
Dish washing detergent
Shop rag
Putty
Putty knife
100-grit sandpaper
100 percent latex primer
Latex-based paint
Shutters
Utility knife
Hammer
Exterior doors
Light fixtures
Screwdriver
Drill
Remove any nails or screws in the paneling on all walls in the mobile home with a pry bar. Wash the paneling with dish washing detergent, a shop rag and warm water. Washing the paneling prepares it for the primer and paint.

Apply putty to all cracks and holes in the paneling with a putty knife. Allow the putty to dry according to the manufacturer's directions. Gently sand the putty and paneling with 100-grit sandpaper until it is flush with the paneling.

Paint the paneling with 100 percent latex primer. Wait for the primer to dry then paint all of the interior walls with a latex-based paint.

Install shutters on the exterior of the mobile home. When selecting a color for the shutters, choose one to complement the exterior color of the mobile home but add a dramatic touch -- for example, if your mobile home has tan siding, you may want to purchase blue or green shutters.

Remove all carpet and laminate flooring in the mobile home. Cut out the flooring with a utility knife and pry it away from the subfloor with a pry bar. Remove any tack strips with the pry bar and hammer. Install hardwood or laminate flooring in all rooms of your single-wide mobile home according to the manufacturer's instructions. Hardwood or laminate flooring creates the appearance of a traditional home.

Replace both exterior doors on the mobile home with new ones. Select exterior doors with designer windows to resemble a traditional home door. Mobile home doors are smaller than traditional home doors so be sure to measure your doors and take these measurements with you when purchasing your exterior doors. Otherwise, you will have to cut the doors to fit.

Update all light fixtures in your mobile home. Typically, mobile homes have globe ceiling light fixtures; these do not reflect a traditional home appearance. Turn off the power to the mobile home and unscrew the globe light fixture base with a screwdriver. Untwist the color-coded wires and install a new updated light fixture. Twist the color-coded wires together and secure the fixture to the ceiling with the screws provided and a drill. Turn on the power and test the fixture.
References
"Home Improvement 1- 2- 3"; John Holms; 2003
"Black and Decker: Complete Home Improvement"; Creative Publishing International; 2007
Writer Bio
Stephanie Nolan has been a freelance writer since 2005. Her articles appear on various websites, where she specializes in topics about home improvement, parenting and interior design. Nolan holds an Associate of Applied Science degree in business management from the University of Phoenix.
Photo Credits
Jupiterimages/Photos.com/Getty Images
Jupiterimages/Photos.com/Getty Images
More Articles