How to Remodel a 1960s Ranch House
Remodeling a 1960s ranch home is a project that incorporates changing exterior and interior elements to create a more updated look. Ranch-style homes have an inherent 1960s design, as their architecture and history originates from this time. Some quintessential features of a ranch home, such as the flagstone fireplaces, open floor plans, sleek, clean lines and step-down living rooms are desirable, while other elements, such as wall-to-wall carpeting, aluminum-clad windows, hollow core doors and popcorn ceilings are not. Remodeling a ranch home is fairly simple with updating some exterior features and accenting the interior spaces as well. The result is a beautiful ranch home with retro style.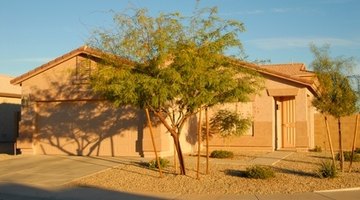 Select new windows. Add energy efficiency and visual appeal by updating the old 1960s-style ranch home aluminum-clad windows. Choose windows with no panes for a more modern appearance to the home or windows with panes for a more traditional look. Replacement windows instantly update a house visually while providing function as well.

Choose a 1960s color scheme. Color palettes in the 1960s include hues from nature, such as greens, golds and oranges. Bold colors combinations also are a good choice for interior spaces in mixes of hot purple and bright orange or dark black and crisp white. Use these 1960s colors for upholstery, walls and accessories for an authentic retro look and feel to the space.

Remove the popcorn ceilings. Popcorn ceilings are a thing of the past, but are very prevalent in 1960s-style homes. Remove the popcorn texture from the ceilings by scraping them down, sanding, applying a smooth base coat and a fresh coat of paint to create a modern, updated feel to the home.

Replace the interior doors and hardware. Updating the hollow core doors is an easy way to update a 1960s ranch-style home. Choose doors that enhance the overall interior motif, and include appropriate door hardware that further accents the look and feel of the doors for a 1960s home with style.

Add hardwood floors. Taking the wall-to-wall carpeting out of a 1960s ranch home and replacing it with hardwood floors, is a way to instantly update the spaces and create a functional and stylish decor. Select dark woods for a more formal appearance or a light woods for a more casual design.

Add a new front door and entry lights. The entrance to a home is architecturally a very important element to the overall appearance of a home. To remodel a 1960s ranch home, select a new front door in keeping with the entire retro design of the home. Enhance the entrance further with attractive entry lights on either side of the door as a crowning touch to the 1960s ranch house remodeling project.
References
Resources
Tips
If a new exterior door is not in your budget, paint the existing door with a fresh coat of paint for maximum visual appeal.
Warnings
Popcorn ceilings may contain asbestos, so check with a professional asbestos removal company before tackling a popcorn ceiling for testing and, perhaps, professional removal of the ceiling material.
Writer Bio
Based in upstate New York, Amy Mosher has been writing interior design and lifestyle articles since 2005. She is a prolific professional blogger, designer, artist and writer for various websites. She holds a bachelor's degree from Mansfield University and is a graduate of the Sheffield School of Interior Design.
Photo Credits
brand new home 208 image by Paul Moore from Fotolia.com
More Articles