How to Fix a Sliding Glass Door Lock
Fixing a sliding glass door lock is a very quick repair. You can easily find a sliding glass door lock at your local hardware store or home center, and if you remove the broken door lock and handle and take it to the store with you, it will be easier to find a match.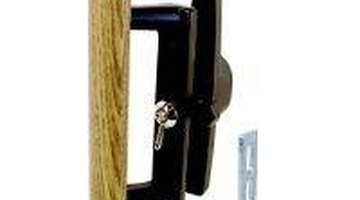 Once you have a match, you can have the new sliding glass door lock installed in five to 10 minutes.
Things You Will Need
Phillips screw driver
New sliding glass door handle
Remove the broken sliding glass door lock from the door by removing the screws that attach it to the door. Take the old door lock to your local hardware store to use as a reference when purchasing a new door lock. This will save you a lot of time and prevent you from making multiple trips to the harware store if you buy the wrong door lock replacement.

Remove the new door lock from its packaging and become familiar with all of the parts and pieces. Door locks vary greatly from manufacturer to manufacturer and from model to model.

Install the locking cylinder into the main door lock frame. Slide the key into the cylinder and work the lock to ensure that it turns properly.

Place the exterior (locking) side of the door lock frame into the door. Place the interior side of the door lock frame into the door. Place the door handle over the screw holes on the interior side of the door frame, followed by the screws, and hand tighten the screws. Tighten the screws with a Phillips head screw driver.

Slide the door closed and engage the door lock. Test the door to be sure that the lock engages. Open the door and test the locking mechanism to be sure that the locking arm moves correctly.
Writer Bio
Josh surprisingly found himself as an English Literature major one day after planning on becoming a doctor for most of his life. He graduated with a BS from Utah Valley University in April 2003.
Photo Credits
http://images.hardwareandtools.com/P/1228691.jpg
http://images.hardwareandtools.com/P/1228691.jpg
More Articles