How do I Rekey a Baldwin Lockset?
Baldwin manufactures locksets, for home or commercial use, in several choices of finishes. Baldwin locks use a Schlage key cylinder inside the lock to operate the tumblers and open and lock the mechanism.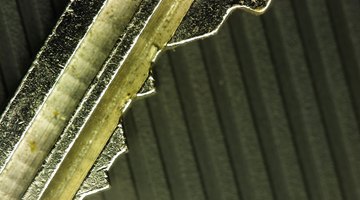 A Schlage re-keying kit will re-key a Baldwin lockset in minutes to secure a home or office after a change of residency or employees.
Take a new reset key to a hardware store to cut it to the new key you want to use in the door.

Place the current blue reset key into the lock. This reset key is cut the same as the current key for the lock. The reset key will have the top pointing at the 12 o'clock position. Turn the reset key to the 11 o'clock position. Pull the reset key out of the lock without turning it.

Insert the newly cut reset key into the lock at the 11 o'clock position. Turn the key to the 12 o'clock position. Remove the new reset key. The new permanent brass key will work in the lock as a normal key when turning it horizontal to open the lock.

Tip

Keep each reset key on a key ring with one permanent brass key cut to the same configuration. This will allow new keys to be cut in the future to fit the old lock or another Baldwin lock. Date the tag on the key ring or number the reset key and permanent keys to identify which locks they fit.
References
Resources
Writer Bio
Mary Lougee has been writing for over 10 years. She holds a Bachelor's Degree with a major in Management and a double minor in accounting and computer science. She loves writing about careers for busy families as well as family oriented planning, meals and activities for all ages.
Photo Credits
Photos.com/Photos.com/Getty Images
Photos.com/Photos.com/Getty Images
More Articles