How to Remodel Older Mobile Homes
You can make an older mobile home look new again by giving it a facelift. Remodeling a mobile home follows the same concept as remodeling a house. You can update or replace everything from siding and drywall to light fixtures, flooring and plumbing.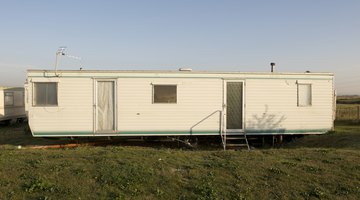 Exterior Paint and Repairs
Older mobile homes are most often clad with siding, which fades over time from constant exposure to the elements. If the siding is in good shape, you can paint it. Rub your hand across the siding; if a chalk-like substance comes off, you will need to seal it before you paint because chalked paint will prevent new paint from adhering to the surface. If this is the case, power wash the siding and allow it to dry. Then apply a coat of chalk sealer, which you can purchase at your local paint store. Allow it to dry according to the manufacturer's instructions. Then paint the siding with a good-quality latex exterior paint-and-primer in one. You can also replace the siding if it is too old or full of holes to paint.
Interior Paint and Repairs
Before painting the interior, repair walls where needed; fill nail holes and patch or replace damaged drywall, for example. Remove or paint old paneling and wallpaper, which can make the mobile home look dated. Some mobile homes have wallpaper wrapped drywall, which you can replace or paint. Paint ceilings, doors and trim. Touch up cabinets or paint them. You can clean or resurface countertops if you can't afford granite.
Flooring
Removing old, stained carpet, cracked tiles or old linoleum is no different from replacing these items in a house. Replace carpet in bedrooms, and consider using a laminate flooring in living areas. Clean existing tile in bathrooms and kitchens. You can replace individual cracked tiles if you can match the color; otherwise, replace all of them. Remove old linoleum and install new tile. New flooring and freshly painted walls will make a mobile home look like new.
Fixtures
Replacing fixtures completes the look. Make sure all door knobs and hinges match. Install new light fixtures and new handles on cabinets. Replace toilet seats, update faucets and install new mini-blinds.
Plumbing and Electrical
Plumbing and electrical must be in good working order and pass city codes. Hire an inspector to check the heat and air, water heater and outlets. Wiring is sometimes outdated in older mobile homes, and you must change outlets near water sources to ground fault interrupters. Faulty plumbing can lead to leaks and water damage, and faulty wiring can result in a complete loss. You must hire licensed professionals for major plumbing or electrical repairs.
Don't Break the Bank
Everything you do to update an older mobile home will increase its value, but you don't have to overspend. Shop at builders warehouses that sell fixtures and flooring at discount prices. You can find good-quality, inexpensive paint at most local hardware stores. Take time to shop around and you can remodel an older mobile home without overspending.