Which Floor Coverings Absorb the Most Heat?
Flooring is an important aspect of home decor and can be instrumental in pulling a look together. Consumers can find options that are not only attractive and comfortable but that are manufactured from green materials and that absorb heat naturally.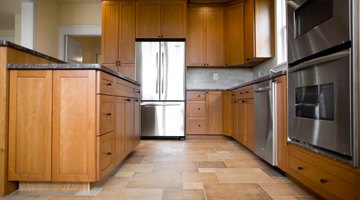 This property is known as passive solar design, naturally absorbing heat like a sponge during the day and releasing it at night, allowing less money and energy to be put out in traditional heating and cooling.
Concrete
Concrete is a dense material with a high thermal mass. Concrete is not traditionally a home building material; eco-friendly builders and homeowners have made it more common. It is one of the most environmentally friendly materials available and requires little or no maintenance or upkeep. For home decoration purposes, concrete can be stained to become a variety of colors and can also incorporate decorative pieces, stencils and finishes. Additionally, it is relatively easy to care for and, once sealed, will be resistant to damage and staining. It is also possible to add different patterns, designs and other special features. For added eco-friendliness, consumers can find concrete that incorporates fly ash (residue left by combustion) and that has been heated with a dry kiln; some manufacturers will incorporate recycled glass for added color and visual interest.
Tile
One of the most common flooring choices available, tile is a diverse flooring option. Depending on the manufacturing, it is available in a variety of colors, styles and patterns and offers more heat absorption than most other materials. Tile often resembles natural stone but is easier to work with and usually more budget friendly. Tile flooring can be easily installed on top of concrete, which will add to its heat-holding ability. For maximum effect, tiles in dark colors are recommended by the Department of Energy, and leaving floors uncovered will help the floor retain the most heat. Like other masonry products, tile is fairly resistant to damage and requires little special care or maintenance.
Brick and Stone
Completely eco-friendly and durable, both brick and stone are commonly found in certain areas of the home. For homeowners looking to store heat, brick is a good choice for outdoor patios and around swimming pools. Recently, recycled brick tiles have found their way into modern homes and are another way to stay environmentally friendly. Bricks can be of traditional mud or more modern ceramic design; either will increase heat retention. Buyers can also choose paving bricks, which are denser than standard building bricks and will hold more heat. Natural stone is heavy and dense, making it a good source of heat storage. Stone is one of the most expensive materials available and comes in a variety of colors and textures. It is also one of the most durable materials and requires little maintenance once installed. For budget-conscious homeowners, a variety of stone tile and faux stone options are widely available.
References
Writer Bio
Sara John is a professional writer and copy editor living in Des Moines, IA. She has worked professionally for seven years, and written articles for the Long Beach Press-Telegram, as well as other local publications. She is a graduate of Grand View University and holds a B.A. in journalism.
Photo Credits
David Sacks/Lifesize/Getty Images
David Sacks/Lifesize/Getty Images
More Articles