How to Lay Carpet Padding on Concrete
Homeowners wanting to drastically change the look of a basement or garage while simultaneously adding extra comfort can choose to lay carpet over concrete flooring. A thick layer of padding underneath the carpet helps ease stress on feet even more. However, the hardness of the material and the unique atmospheric conditions often found in rooms with concrete floors requires a homeowner to use slightly different tools and techniques when he lays carpet padding on concrete rather than traditional wooden floors.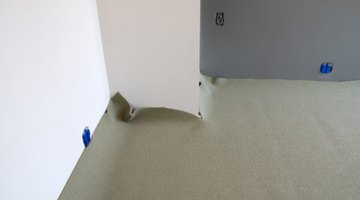 Things You Will Need
Broom
Sealer (optional)
Work gloves
Gripper edges or tackless strips
Hammer
Masonry nails
Hacksaw (optional)
Carpet adhesive
Utility knife
Duct tape
Sweep the floor and remove any debris. Clean away any residue. Apply a coat of sealer if the concrete is prone to "sweating" or dampness.

Install gripper edges or tackless strips made specifically for concrete around the perimeter of the room. Leave a gap between the wall and the strip that's about the size of 2/3 the thickness of the carpet. Point the tacks toward the wall and secure the strips to the flooring using at least two masonry nails per strip. Ensure the strips sit flush against each other, even in the corners, cutting the strips to size with a hacksaw if necessary.

Cut the padding to fit the length of the room. Allow enough room for the padding to cover the tackless strips.

Apply carpet adhesive directly to the cement floor following the instructions on its label. Use the carpet adhesive suggested by the carpet's manufacturer.

Start at one side of the room and unroll the carpet padding over the adhesive-covered cement. Lay the padding as smoothly and evenly as possible, facing the side with the waffle pattern upward. Go back and smooth out any bumps once the padding is laid.

Lay a second strip of padding next to the first. Line the edge flush against the edge of the previously laid strip, but be careful not to overlap the strips. Continue laying padding until the entire floor is covered in padding. Work quickly to lay the padding before the carpet adhesive dries.

Trim away any padding covering the tackless strips. Realtor.com recommends leaving a 1/8 to 1/4-inch gap between the edge of the tackless strip and the edge of the carpet padding.

Cover the seams in the padding with duct tape.

Tip

Wear work gloves while handling tackless strips to prevent injury.
References
Writer Bio
Brad Chacos started writing professionally in 2005, specializing in electronics and technology. His work has appeared in Salon.com, Gizmodo, "PC Gamer," "Maximum PC," CIO.com, DigitalTrends.com, "Wired," FoxNews.com, NBCNews.com and more. Chacos is a frequent contributor to "PCWorld," "Laptop Magazine" and the Intuit Small Business Blog.
Photo Credits
Jupiterimages/Photos.com/Getty Images
Jupiterimages/Photos.com/Getty Images
More Articles