How to Install Outdoor Carpet on Stairs
Outdoor carpet is very thin and durable and appropriate for use in a laundry room or basement, as well as on stairs. Installing it on stairs requires stapling it, or gluing with a flooring adhesive. Stapling is quicker and cleaner, but a glue-down installation is more permanent.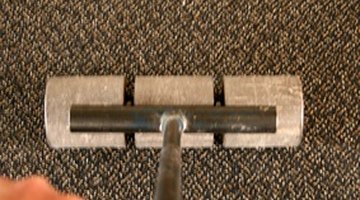 The glue-down installation process isn't difficult for most do-it yourselfers.
Things You Will Need
Tape measure
Straight-edge
Marker
Razor knife
Vacuum cleaner
Rag
Notched adhesive spreader
Carpet adhesive
Carpet roller
Tip
Always follow the carpet manufacturer's recommendations for installation.
Measure the width of the staircase, using a tape measure. Also measure the riser and tread of each step so you can estimate the length of the carpet. Add at least 3 inches.

Lay the carpet with the backing facing up. Transfer your measurements to the carpet, using a straight edge and marker. Make the pattern in the carpet run parallel with the length of the stairs.

Cut the carpet to size, using the straight edge and a razor knife. Change the blade in the razor knife as often as needed to get a clean cut.

Vacuum any dust and debris up from the steps, using a vacuum cleaner. Wipe the surface of the steps down with a damp rag and let the steps dry.

Spread carpet adhesive on the first two to three steps, using a notched adhesive spreader. Line up the edge of the carpet so it is square with the steps and begin pressing it to the steps. Keep the carpet as tight as possible as you go. Spread the glue on the next two to three steps and continue laying the carpet, keeping it as tight as possible. Flatten the carpet out, using a carpet roller. Continue this process until the carpet covers every step.

Trim the excess carpet at the edge of the last step, using a razor knife and straight edge.
References
Writer Bio
Jason Kurz has been a published writer for eHow.com and Trails.com for less than a year now. Kurz attended Kent State University of Ohio for Computer Aided Design.
Photo Credits
carpet roller image by Greg Pickens from Fotolia.com
carpet roller image by Greg Pickens from Fotolia.com
More Articles