What Causes Linoleum to Shrink?
Linoleum, a flooring product composed of linseed oil, rosin, cork, wood fillers and pigments bound to a backing, is growing in popularity since it is ecologically friendly in its production and long-wearing. But there are some things to consider when choosing linoleum for your floors; one of them is shrinkage.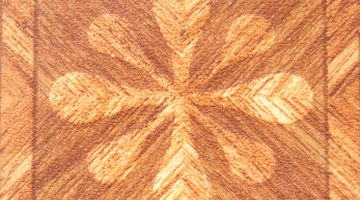 How It Shrinks
According to Floor Covering Installer magazine, linoleum expands in width and shrinks in length when installed.
Why It Shrinks
Excess moisture can cause linoleum, which is porous, to expand and dry heat can cause it to shrink if the flooring isn't sealed. When it is installed, the adhesive applied to bond it to the subfloor causes it to shrink in length and expand in width.
Cleaning
Harsh cleaning chemicals can damage linoleum and cause it to shrink and crack. Linoleum should be cleaned with natural products and those cleaning agents recommended by the product's manufacturer.
References
Writer Bio
Eileen Faust began her career in journalism in 1999 and has worked as an editor for Greater Media Newspapers and the "Pottstown Mercury." She was a member of "The Mercury" editorial team awarded second-place for promotional community service by Suburban Newspapers of America for coverage of the local Relay for Life. Faust received a Bachelor of Arts in writing from Rider University in 1998.
Photo Credits
Background from a piece of linoleum. image by Egor Tkachenko from Fotolia.com
Background from a piece of linoleum. image by Egor Tkachenko from Fotolia.com
More Articles