Alternative Home Building Techniques
Somewhere between the green movement and the push to save greenbacks, homes constructed with alternative home-building techniques are becoming increasingly popular.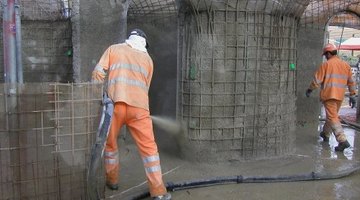 And while some may shun the geodesic dome as an oddity of modern architecture, there are many alternative building techniques, such as using concrete insulation or building with recyclable materials that blend seamlessly with more traditional housing designs.
Earth Sheltered Homes
Earth-sheltered homes first enjoyed popularity in the 1970s, as an oil embargo and resulting energy crisis left U.S. citizens scrambling for more energy-efficient building methods. An earth-sheltered home can range from a home constructed in a cave to one with earth piled in berms against the exterior walls. Those who have built earth sheltered homes claims they reduce heating and cooling costs by half, with very little increased construction expense. Most homes also blend in seamlessly with the landscape, making for an attractive natural setting.
Insulated Concrete Forms
In a home built with insulated concrete forms (ICF), the walls are built with several inches of concrete, sandwiched by foam insulation. The result is a more energy efficient and quieter home than that of a traditional house, constructed using stick-built methods. Unlike an earth sheltered home, ICF homes are indistinguishable from their neighbors. Home builders with allergies state that an ICF home keeps pollen and other exterior home pollutants out of the structure as well. And while builders estimate that it can cost up to 10 percent more to build an ICF home, this cost is offset long-term by lower utility bills.
Steel Home Construction
Steel homes use steel instead of wood for the framing and cementitious materials for the siding. Steel construction specialists say that the homes are greener because they use recyclable materials and save trees in the process. As with ICF homes, steel homes resemble traditional stick-built homes and will blend in seamlessly with other houses in any neighborhood.
References
Resources
Writer Bio
Tracy Morris has been a freelance writer since 2000. She has published novels and numerous online articles. Her work has appeared in national magazines and newspapers including "Ferrets," "CatFancy," "Lexington Herald Leader" and "The Tulsa World." She holds a Bachelor of Arts in journalism from the University of Arkansas.
More Articles