Top Ten Home Builders in the United States
Buying a new home is an important and expensive event for most families in the United States. Home construction has boomed in most areas of the nation, providing homes for a number of rapidly growing areas.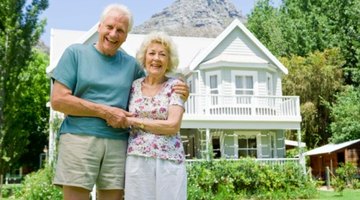 Large home-building corporations play a major role in this sector of growth, and a few names occur year after year among the top 10 builders in the country.
D.R. Horton
D.R. Horton is one of the leading homebuilders in the United States. Cited by Builder Magazine as America's biggest homebuilder, D.R. Horton provides homes in 28 states. With experience in providing homes since 1978, D.R. Horton emphasizes quality and value, livable floor plans and energy-efficient systems.
Pulte Homes
Pulte offers homes in 27 states in the nation, with an emphasis on innovative features, green technologies and neighborhood amenities. The Pulte Group also includes DiVosta and Del Webb, as well as their recent purchase of Centex Homes.
Lennar
Lennar Corporation, headquartered in Miami, Florida, has building projects in 17 states, according to Lennar. The company specializes in "affordable, move-up and retirement homes" for the changing needs of American families, with a focus on quality and customer service.
NVR
NVR builds homes in 25 metropolitan areas in 14 states. It was founded in 1948 during the post-war economic boom. Today, it provides homes for a wide range of demographic needs, including single-family homes, townhomes and condominiums.
KB Homes
KB Homes provides residences in 12 states in the country. With its focus on energy-efficient appliances, water-conserving systems and use of sustainable materials, KB Homes offers features and an attitude that many modern home-buyers require. KB Homes was founded in 1957.
Centex
Centex Homes, now owned by Pulte Group, offers residences in 22 states and the District of Columbia. The company was founded in 1950, and their long experience and quality are the result of keeping an eye on changing consumer needs, as well as intensive follow-up attention to its customers' feedback.
Hovnanian
K. Hovnanian Homes have provided homebuyers with quality homes since 1959. Today, Hovnanian builds houses in 17 states, with choices like retirement resort communities, high-rise condominiums, single-family homes, garden homes and estate homes.
Habitat For Humanity
Habitat for Humanity has become one of the nation's top ten homebuilders, according to the Wall Street Journal on December 21, 2010. Cutbacks from major homebuilding companies gave Habitat for Humanity's continuing record of affordable homebuilding and home rehabilitation an advantage in the current economic climate. Habitat was founded in 1976 in Americus, Georgia, as a Christian group providing housing for the disadvantaged.
The Ryland Group
Ryland Homes have provided new homes for American home-buyers since 1967. Ryland's care for both indoor and outdoor environmental quality as well as livable floorplans and careful neighborhood planning make them a favorite among American homeowners.
Beazer
Beazer Homes, headquartered in Atlanta, offers high-performance "eSmart" homes covering many price ranges and designs to appeal to American families. Beazer Homes USA, Inc. was founded in 1985.