Individual Grants for Home Repair
Maintaining a home takes work and money. After living in a home for years, it may need repairs and improvements beyond what the individual can afford. Grant and loan programs are available for home improvement projects. While most people would like free money to repair their homes, many grants are only available to low-income, disadvantaged or elderly people. However, loan programs with low interest rates are available to individuals in need of home repairs.
USDA Rural Repair and Rehabilitation Loans and Grants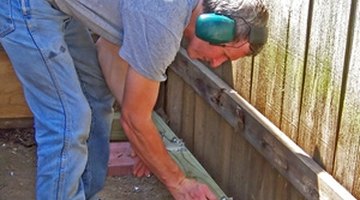 The United States Department of Agriculture, or USDA, offers Rural Repair and Rehabilitation Loans and Grants. According to the USDA, the program provides loans and grants to very low-income individuals over the age of 62. To be eligible, candidates must not be able to obtain credit elsewhere and must have an income below 50 percent of the area's median income. Eligible homeowners may use funds to repair and modernize the home to improve its safety and remove any health hazards. Grants are available up to $7,500 and loans up to $20,000 at a 1 percent interest rate. Applicants should inquire at the USDA Rural Development office in their area.
HUD Title I Home Improvement Loan
The U.S. Department of Housing and Urban Development, or HUD, helps homeowners with repairs and improvements through its Title I Home Improvement Loan program. According to HUD, the agency insures private lenders on their home improvement loans. Individuals may apply for a Title I loan through an approved lender listed on HUD's website. HUD does not provide loans directly to individuals. Eligible homeowners may use the loan for small and large improvements such as repairs and alterations. Applicants must have good credit and the ability to repay the monthly loan payment. The maximum loan amount is $25,000.
State and Local Agencies and Nonprofits
Individuals may also apply for grants and loans through their state and local government agencies and nonprofit organizations. These may vary depending on your city and state. See the link below in the Resources section to locate organizations in your area.
For example, the Maryland Department of Housing and Community Development offers its Maryland Housing Rehabilitation Program to preserve and improve single family properties and bring them up to applicable building codes and standards. The Department gives loans to applicants with an income less than 80 percent of the statewide median income. The Baltimore Housing Office of Rehabilitation offers its City Housing Assistance Program with loans up to $20,000 for Baltimore residents with an income less than 80 percent of the median income level. The Partnership for Housing Foundation's Maryland Home Makeover program uses local volunteers to help repair individual's homes. The program gives priority to individuals such as policemen, firefighters, disabled and veterans. The organization bears the costs of the repairs as long as the individual stays in the home for a specified period.
Resources
Writer Bio
Lisa Hall began writing professionally in 1998. In addition to freelance writing, she worked as a graphic designer for international nonprofit organizations for six years until she started a home staging business in 2009. She frequently writes about art, design and home improvement. She holds a Master of Science in European social policy from The London School of Economics.
Photo Credits
More Articles