Grants for Asbestos Removal
Removing asbestos from a home, school or place of business can be a massive undertaking that will cost you a great deal of time and money. However, if you are very lucky you may eligible for grants that can be applied toward the cost of removing asbestos.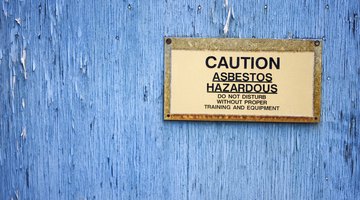 The regulations will vary from state to state, but depending on your home and location, you may be able to secure some grant money for your project.
Historic Homes
The National Register of Historic Places often awards grant money to historic homes or other structures in need of asbestos removal. Visit their website for more information (see References).
Brownfields and Superfunds
Brownfield sites and Superfund sites are designated by the U.S. EPA, and refer to any commercial or industrial property that can no longer be used safely until asbestos or other hazardous materials have been removed. The EPA can give some money toward the cleanup of these kinds of sites. You can contact the EPA for more information on eligibility for these types of grants in your area. Generally speaking, brownfield money is given as a grant, whereas Superfund money often has to be repaid, if possible.
State Grants
Depending on your state, you may be eligible for any number of state-run and supported grants. Check with officials in your state capital or with your state's Department for Environmental Protection for more information.
Stimulus Funding
Federal stimulus funds may also be available through the EPA, the American Recovery and Reinvestment Act or other sources of federal funding. Check with your state representative, the EPA website or Recovery.gov.
Educational Grants
If you are looking to remove asbestos at a school building, you may be eligible for education-specific grants through a variety of state or federal organizations.
References
Writer Bio
Tucker Cummings is a freelance writer based in New England. She holds two Bachelor of Arts degrees from the University of New Hampshire and is a member of the Association of Professional Business Writers. Cummings is also a food writer and curates the blog, Brave New Breakfast.
Photo Credits
Jupiterimages/Comstock/Getty Images
Jupiterimages/Comstock/Getty Images
More Articles