State of Oklahoma Rules & Regulations for Manufactured & Modular Homes
Manufactured homes are defined as transportable structures, which are at least 8 feet in width and 40 feet in length, or more than 320 square feet total, and designed to be used as residential buildings. Like any residential structure, manufactured homes carry a variety of stipulations and regulations for purchase, transport, and establishment. While rules vary from state to state, the state of Oklahoma outlines local guidelines for manufactured homes.
Manufactured Home Sale and Purchase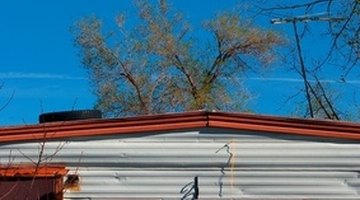 Manufactured homes that are purchased new or moved from another state are initially registered at motor license agencies. After that, they become part of the county's tax rolls and are issued renewal decals. Oklahoma places an excise tax on half of the purchase price at a rate of 3.25 percent. The seller and the buyer of a manufactured home are required to submit a variety of documents to state and county authorities, particularly Form 936, which is an Oklahoma Manufactured Home Certificate.
Manufactured to Modular
After a manufactured home is purchased and becomes a permanent fixture of real estate, Oklahoma law designates the structure as a modular home. The designation changes if a home owner or a finance company surrenders the title of the structure and if the structure is permanently attached to real property, like a foundation, basement, or crawlspace. The home is then listed with the County Assessor as real property, which changes the way property tax values are assessed through county government.
Relocating a Manufactured Home
Oklahoma law requires that owners moving or relocating a manufactured home obtain a moving permit from the Department of Public Safety. If the home is undergoing change of ownership, proof of paid taxes is required, or proof that no taxes are required to be paid. Dealers who wish to relocate a manufactured home also need to obtain a Department of Public Safety permit. The dealer must provide a trade-in affidavit and the structure will remain in the name of the former owner until the home is sold or until the following Jan. 1, whichever comes first.
References
Resources
Writer Bio
Since 2008, Carlleen Bell has served as a staff writer, photographer and webmaster for the "Atlantic News Telegraph." She was also an editor for her collegiate newspaper and served as a staff writer for the "Jacksonville Journal-Courier." Bell has a Bachelor of Science in English literature and writing from MacMurray College.
Photo Credits
More Articles