Definition of Residential Design
Residential design is a process that results in a new home. Architectural clients might experience confusion about this term because it represents several phases of the home design process. The process of residential design includes a contract that specifies details about design, construction and pricing obligations.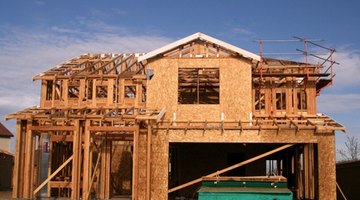 Home owners who plan on interacting with an architectural firm can benefit from exploring residential design related concepts before the residential design meetings begin.
Significance
Once an owner outlines her needs, a residential design project launches. The creative activity behind meeting the desires of architectural clients is considered the first phase of residential design. The outcome of this effort is a home design plan, which will contain illustrations and informative details such as the required building materials, fixtures, appliances, hardware, doors and windows. This initial phase is refined until construction documents can evolve from the approved plan.
Expert Insight
Michael Malone, author of the "Architect's Guide to Residential Design," states that regular meetings with clients are unusual during the creation of the construction documents that lead to the building of a new home. Architects tend to minimize client contact during this part of the residential design process because of the technical nature of construction documents.
Misconceptions
It is commonly understood that clients don't need to participate during the construction process. However, architectural clients can benefit from reviewing the final kitchen and bathroom layouts to inspect matters such as cabinet organization. A client might wish to increase participation during this stage of home design.
Negotiations
The residential design process includes negotiating and bidding on the home's materials. Architectural clients can leave this phase in the hands of the architect because providing administrative services is normally included in the residential design process. The home owner can participate during this phase if he wishes, but it is not necessary because the owner has the final say after reviewing costs before approving of the architect's construction contract.
Considerations
Talented architects offer clients the support they need during the construction of a new home. The residential design process may stretch beyond the scope of traditional architecture and into matters related to landscapes, interior design and pool or water features.
References
Writer Bio
Christina Hadley holds a Bachelor of Arts in design. She writes copy for an assortment of industries. Her work also appears in the "Houston Chronicle" small business section. Hadley is a UCLA-certified computer professional. The British Museum recently featured one of her digital images in an exhibit.
Photo Credits
new home image by Greg Pickens from Fotolia.com
new home image by Greg Pickens from Fotolia.com
More Articles