DIY: Steel Houses
Steel-framed construction is a safe, economical, adaptable and even green alternative to traditional stick-built construction, particularly in natural-disaster-prone regions. Light-frame steel construction can withstand winds of up to 150 mph and typically costs less than traditional wood framing, thanks to fewer laborers, reduced time to erect the frame and the elimination of pest problems, mold and warping. And compared to often-unsustainable wood construction, many steel-home kit manufacturers use at least some reclaimed steel, often as much as 60 percent.
Determine Your Budget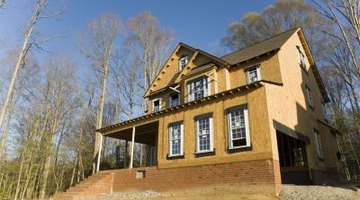 According to LTH Steel Structures Inc., a manufacturer of steel-frame kits, a steel-frame home can typically be built for $75 to $90 per square foot, depending on how the interior of the home is finished. Consider too that if you act as your own general contractor or do some of the work yourself, you can save a great deal in labor costs.
Consider the following expenses when determining your home building budget:
• Labor: general contractor, steel erection crew, interior craftspeople and installers • Permits and inspections • Equipment: forklift or front-end loader, specialty metal-working tools • Interior Finish Out: drywall and paint, electrical and light fixtures, plumbing and fixtures; HVAC system; flooring • Exterior Structures: foundation, driveway, patio, landscaping
Select a Home Kit
A number of manufacturers produce steel-frame kits that offer models and construction options to fit a variety of budgets. Many manufacturers supply not only the steel framing, home plans and drawings, but also offer options for full dry-in packages that include everything but doors and windows, as well as turn-key services for building your home start to finish. Some manufacturers offer project planning kits to help with early and ongoing decisions such as budgeting, procuring permits and managing labor.
Procure Permits
While selecting your steel-frame kit and the manufacturer whose products and services meet your home-building needs, you must consider your local building codes and permit requirements. Most locales require that you apply for building and occupancy permits and pass a variety of inspections during construction. You may need to meet the requirements of a planning commission or a homeowners' association, and you will need to be aware of any community home type and size restrictions. Ask your permit office whether you must submit drawings and a list of materials before being granted a permit—some states (California and parts of Florida) stipulate that only materials that are pre-approved and registered with the state may be used.
Manage the Project
A key decision for the home owner in any home construction project is whether to manage the construction process yourself or to hire a general contractor to manage it. Kodiak Steel Frame Homes suggests that hiring a general contractor with steel framing experience is ideal, so consider a general contractor with both residential and commercial construction experience. If you decide to manage the construction project yourself or hire a residential general contractor with no steel-framing experience, you can ensure the expertise you need by hiring an experienced steel erection crew in place of the framing carpenters who erect traditional wood-frame homes.
Build Your Home
Whether you manage your home-building project yourself or hire a general contractor, you should understand the general steps involved in constructing a steel-framed home and how building one differs from (and is similar to) traditional stick-built construction:
• The foundation: The foundation is the stable base upon which a steel home is constructed. A pre-engineered steel home anchors into concrete "piers" that extend well below the concrete slab into the ground. • Primary framing: I-beams are bolted together and fastened to the anchor bolts in your foundation. • Secondary framing: "Girts" and "purlins" run horizontally down the length of the building to provide support for wall and roof panels • Panel installation: Wall and roof panels and weather stripping are installed. • Accessory installation: Doors, windows, vents and gutters are installed. • Finishing: Interior (drywall, paint, flooring, electrical, plumbing, fixtures) and exterior (driveway, patio, landscaping) features are added to finish the home.
References
Writer Bio
Katherine T. Sawyer is an instructional designer, technical writer/editor and marketing communications professional based in Cincinnati. She holds a master's degree in technical and scientific communication from Miami University, where she was also taught writing, editing and project management. Sawyer has written professionally since 1990 in the food and information technology industries.
Photo Credits
Jupiterimages/Comstock/Getty Images
More Articles