Can I Build a Second House on My Lot?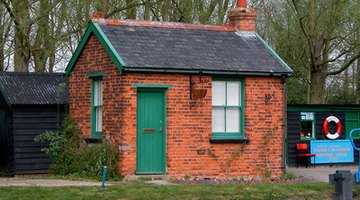 There are many good reasons for building a second home on your lot without subdividing the lot. You may want a home for a parent or adult child, you may have frequent out-of-town guests, or you might want to use it as a studio or office. You could also be looking for rental income. Every municipality has its own rules for second homes and guest houses, as well as who and how many can use them. Proper planning is the most important part of building a second house on your lot, since you will have a great deal of trouble selling any second structure that is not a legal structure. You may also be fined or have to tear the structure down.
Decide what your needs are. Guesthouses or in-law suites may only have two rooms and a bathroom, while other in-law suites or rental suites need a fully equipped kitchen. Determine if it can be attached or if it must be detached.

Go to your local municipal zoning department offices or check the municipal website and see if the municipality allows a second building on the lot. Some municipalities do not allow such a building or require a variance. A variance is a request to make an exception to existing zoning rules and requires you to attend a meeting of a local zoning board.

Check if zoning allows for a full kitchen and if the home must be attached or detached.

Find out the size of your lot from your lot plat map showing the shape and dimensions of your lot, which is available by stopping in at your municipal tax office or building permit department and asking for it. Check on the minimum lot size needed for a home in your zoning area and how much extra is needed for two. Some areas require you to have a lot size that is double the minimum--one for each home.

See if there is enough room on the lot considering where the first home is located. If the existing home is smack in the middle, you may not be able to create a large enough lot space to meet the requirements.

Determine if the minimum and maximum square footages permitted for the project will meet your needs. Many municipalities tie the maximum size of the second home to the size of the existing home.

Find out what the rear and side setbacks are for your neighborhood. Your second home must fit inside these required distances between the home and the lot line.

Have an inspection done of your utilities to make sure that they will be able to cope with the additional capacity. You may be able to add additional capacity, but some municipalities require you to use the same lines and systems for both homes.

Consider parking and drainage when planning the project and its location. Adding paved surfaces and leveling out and providing the slight raise needed for the new house will likely call for a re-grading of the entire lot.

Check if there are any restrictive covenants for your property if you live in a subdivision. If you did not receive a copy at closing, they should be available from your home owner's association, builder's office, or local building permit office. Most covenants have some sort of rules in regard to additions to a property and/or the architectural style of any structures built in the neighborhood.

Pick a design that will complement your existing home. Most municipalities require this, but it is a good idea regardless for curb appeal and future resale value.

Tip

The process of getting a variance is not guaranteed. The opinions of neighbors are heard at the request meeting on both sides. The vote of the zoning board, sometimes called the zoning board of appeals, can be arbitrary and is hard to reverse in court. You should consult with a local zoning expert or attorney before your meeting for the best chance at success.
References
Photo Credits
lock keepers cottage image by Tom Curtis from Fotolia.com
lock keepers cottage image by Tom Curtis from Fotolia.com
More Articles