West Virginia Septic System Installation
Septic tanks are an efficient means for treating wastewater produced at an individual homesite. In West Virginia, the septic system must be permitted, installed and approved before a new home may be built. If you already have a home and want to install a septic system, you have some things to do before breaking ground.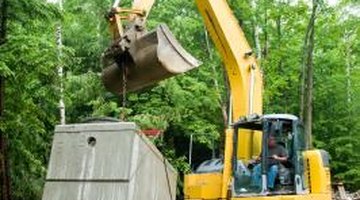 Step 1
Choose the proper septic tank capacity for your specific needs. West Virginia law mandates a daily design flow capacity of 1,000 gallons per day or less, which is usually sufficient for a home with one to four bedrooms. Add 250 gallons to the capacity for each additional bedroom. Although the size of the drain field varies according to topography, percolation, soil and rock conditions, allow 300 to 400 square feet of drain field for each bedroom in the home.
Step 2
Check the size of your lot. If you purchased the lot and the deed was recorded before July 1, 1970, you may install a septic system on a lot 10,000 square feet or more. If you purchased the lot after that time, the lot must be a minimum of 20,000 square feet. Ask the environmental director to issue an exception if your lot is too small but you believe it can still support the system you want.
Step 3
Select a site that complies with local standards for minimum safe distances from drinking water wells, streams, lakes and residences. Distances is measured both horizontally, across the ground, and vertically -- the depth at which the septic tank and soil absorption system will be installed. The US Environmental Protection Agency suggests a minimum of 50 feet between wells and septic tanks.
Step 4
Have the ground at your chosen site tested for proper percolation to be sure the soil is capable of absorbing wastewater emitted by the septic tank. The state of West Virginia requires percolation tests be performed by a qualified person who can legally certify the test results are accurate, so hire a professional for this part of the process.
Step 5
Check with your local health department or environmental health office to find out if local regulations differ from state regulations. In many cases, local governments simply include state regulations into their body of laws without changing anything. Ask how many copies of your plans need to be submitted when you apply for a permit to install the septic tank system.
Step 6
Use small stakes and string or ribbon to mark the area where the septic tank will go as well as the outline of the soil absorption field. This will give you a better idea of how much space the system will use and help avoid siting problems. The layout will also help with measuring distances for the site plans.
Step 7
Make a detailed plan, or drawing, of the proposed septic tank system. Include measurements such as the holding capacity of the septic tank and the dimensions of the drain field, often called a soil absorption system. Measure the distance from the home to the proposed septic tank system and include these measurements, plus the depth at which the septic tank will be installed. (Ref. 2)
Step 8
Take the required number of copies to the proper government department, fill out the permit application form or forms, and pay any fees required. Include the results of the percolation tests in your application packet.
Step 9
Use earthmovers and any other heavy equipment required to dig a hole large enough for the size of septic tank you are using. At the same time, build the drain field and add gravel, pipes and other items necessary for your specific situation. Make sure the drain field is situated so that no vehicles will ever cross it and damage the underground system.
References
Resources
Writer Bio
Audrey Lynn has been a journalist and writer since 1974. She edited a weekly home-and-garden tabloid for her hometown newspaper and has regularly contributed to weekly and daily newspapers, as well as "Law and Order" magazine. A Hambidge Fellow, Lynn studied English at Columbus State University.
Photo Credits
Jupiterimages/Photos.com/Getty Images
More Articles