How to Bury a PVC Pipe
PVC pipe is classified as a flexible conduit and is considered a versatile form of pipe that is useful in many cold water plumbing applications. Underground PVC plumbing has to be buried properly in order to get the best and longest lasting performance. You can do that by following a few easy steps and guidelines.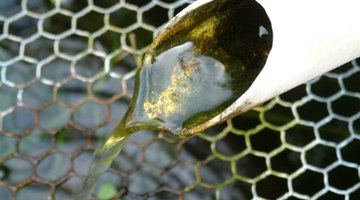 Step 1
Determine the minimum depth at which the pipe needs to be buried. If the pipe is to be used in a non-traffic area where the weight of the load is not a consideration, the frost line becomes of primary importance. Refer to freeze/frost maps and determine the minimum safe depth to avoid freezing for your area of the country. For traffic areas, take into consideration the fact that 2 feet is adequate for loads up to 320,000 pounds. You can add additional depth if a layer of gravel needs to be placed beneath the PVC pipe, as in some drainage applications.
Step 2
Excavate the area for the pipe to the depth determined in Step 1.
Step 3
Add gravel for drainage (if necessary) to the trench. Lay the pipe in the trench.
Step 4
Add approximately one half the soil that was removed back into the trench. Using the handle end of a shovel or a similar tool, work the soil in so that it surrounds the pipe and there are no air pockets.
Step 5
Add water to the trench to help compact the soil, and then add the remaining soil to fill the trench. Compact with a hand or motorized tamper to complete the job.
Writer Bio
Anthony Smith began writing for Demand Studios in May of 2009 and has since written over 1400 articles for them. He also writes for "The College Baseball Newsletter." He attended the University of New Mexico, and has more than 25 years of experience in the business world.
Photo Credits
More Articles