Grants for Restoration of Old Barns in Indiana
The Indiana Department of Natural Resources administers state and federal grant programs for historic preservation and restoration. As of 2010, the only active grant program out of three administered by the department was the Historic Preservation Fund, a federal program.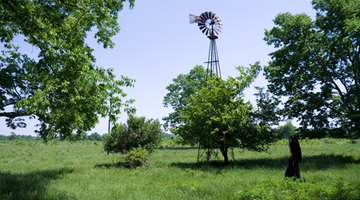 This federal program funds three different types of projects annually and application materials are available online through the department's website. Any of these sources might serve to help restore historic Indiana barns.
Architectural and Historic
The Architectural and Historic Projects program of the federal Historic Preservation Fund makes annual grants to municipal governments, educational institutions and nonprofit organizations. These grants help pay for the National Register nomination of eligible historic districts, feasibility studies, architectural and engineering plans and specifications for the rehabilitation or adaptive reuse of National Register-listed properties, and the historic context studies that go with National Register nominations. The maximum grant award in this program is $35,000. The grant requires an equal share of matching funds.
Archeological
The Archeological Projects program helps pay for costs associated with surveys, testing and research within specific geographic areas or cultural groups. Those seeking grants to rehabilitate an old barn, for example, might use these funds to study the history of a specific Indiana farming community or architectural style of barn. The program also helps fund the costs of nominating individual or multiple archaeological sites for the National Register. The maximum grant award in this program is $50,000. The grant requires an equal share of matching funds.
Acquisition and Development
The Acquisition and Development Projects program grants what is often referred to as "bricks and mortar" money. These funds help save buildings that are under threat of demolition or destruction, which have historic significance. The program funds the preservation, rehabilitation, restoration and acquisition of National Register-listed properties. The maximum grant award in this program is $50,000. The grant requires an equal share of matching funds.
Inactive State Programs
While currently inactive and unfunded, the state had reauthorized two programs, the Wabash River Heritage Corridor Fund and the Hometown Indiana Fund, as of 2010. The potential for funding exists again in the future for these two programs, or ones similar to them. The Wabash River fund helps "protect and enhance the natural, recreational, and cultural resources located along the Wabash River" while the Hometown fund was a one-time appropriation in 1998 by the state assembly to assist communities with historic preservation and archaeology projects.
References
Writer Bio
Siobhan Egan has edited newspapers and news websites at the Jersey Shore since 1999 and been an attorney since 1994. Her writing has won five statewide awards from the New Jersey Press Association. She has a Bachelor of Arts in Spanish from Bucknell University and a Juris Doctor from Temple University.
Photo Credits
An old abandoned windmill in the field in rural Indiana image by Alexey Stiop from Fotolia.com
An old abandoned windmill in the field in rural Indiana image by Alexey Stiop from Fotolia.com
More Articles