Grants Available for Individuals Who Want to Build a Pond in Michigan
The U.S. Fish and Wildlife Service, along with other organizations, administer various grant programs promoting preservation of fish and wildlife and conservation of wetland areas in Michigan. The service works with Native American groups, local governments, and individual citizens interested in conservation and restoration projects. The use of small ponds are incorporated into many wildlife and fish preservation endeavors with funding opportunities available for landowners who wish to develop qualified projects. Many grant programs are ongoing with funding allocated annually as money becomes available from state and federal sources.
Partners for Fish and Wildlife Program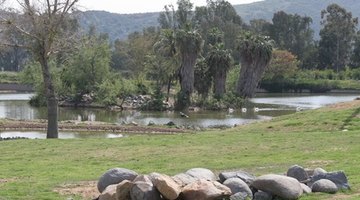 Partners for Fish and Wildlife Program grants assist private landowners with fish and wildlife habitat management and restoration on their property. The undertaking must be in certain geographical locations. A landowner's application must show how building a pond as part of the project benefits habitat in wetland or upland settings, or in areas along rivers known as riparian habitats, and be viewed as a high priority by the U.S. Fish and Wildlife Service. Endeavors aimed at migratory birds, certain fish, and aquatic mammals deemed in critical need of help by the federal government receive urgent consideration. The maximum amount of funding is $25,000 per project.
U.S. Fish and Wildlife Service
Michigan Private Lands Coordinator
2651 Coolidge Road
East Lansing, MI 48823
517-351-5419
midwest.fws.gov
Costal Program Grants
Individual private landowners may apply for funding to assist projects aimed at habitat conservation in coastal areas. Qualified endeavors include rehabilitation of bays, estuaries, and watersheds. A property owner may create a pond as part of a conservation easement designed to protect the wildlife and ecology of the area, or restore wetland sections of coastal regions. This program requires that no less than 50 percent of the cost of the funded project come from sources other than the U.S. Fish and Wildlife Service on a national level. Awards for individual local projects are not bound by the 50 percent cost share and may receive a maximum of $25,000 in award funding. Projects must be in specific geographical locations set by the fish and wildlife service to be eligible for assistance.
U.S. Fish and Wildlife Service
Coastal Program Coordinator
2651 Coolidge Road
East Lansing, MI 48823
517-351-8470
fws.gov
Conservation Innovation Grants
The Michigan Natural Resources Conservation Service (NRCS) administers Conservation Innovation Grant (CIG) funding to qualified organizations and individuals. Monies help to promote the creation of new techniques in environmental management in partnership with agricultural production. One area of interest to the NRCS is creating methods that reduce the spread of contaminants from both natural and man made wetlands, which may include the use of ponds. Grant funding is determined upon review of individual projects, with a maximum of $75,000 per application. The length of an eligible project is from one to three years. Funding awards are for actual conservation attempts with pilot programs and in-the-field demonstrations encouraged.
Michigan CIG Program Manager
Natural Resources Conservation Service
3001 Coolidge Road
Suite 250
East Lansing, MI 48823
517-324-5282
mi.nrcs.usda.gov
References
Writer Bio
Theresa Custodio is a Michigan-certified nurseryman with over 10 years experience. She has spent over five years working for the State of Michigan's Department of Environmental Quality writing permits and violation notices, which are published for public record. She has a Bachelor of Science degree from Eastern Michigan University with a major in biology and a minor in conservation and resource use.
Photo Credits
More Articles