How to Install a Septic Tank in Alabama
According to the US Environmental Protection Agency, 25 percent of the homes in the United States use septic systems because they are in areas that do not have local municipal sewer systems. In Alabama, the Division of Community Environmental Protection, part of the Department of Public Health, regulates the installation and maintenance of these systems, called Onsite Sewage Systems. A licensed and registered septic system contractor must install septic systems in Alabama.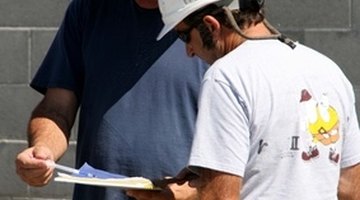 Search for a reputable contractor to install the system. Check with the Better Business Bureau for ratings of the companies you may want to hire. When talking with contractors, consider questions such as how long it will take to complete the project, how much damage will be done to the yard by the heavy equipment and the length of the warranty on the products installed and on the work completed.

Perform a soil test, called a percolation test. This test measures the capacity of the soil to absorb liquids. Local building codes provide an equation used to calculate the size of the leach field based on the results of the perc test. The contractor will probably provide this service.

Complete the Application for a Permit to Install (Repair) Small Flow Onsite Sewage Disposal System. Pay the applicable fees when you submit the application. These fees are set by the County Board of Health and vary in amounts across the state. In Mobile County, for example, the installation permit and system certification inspection fees are around $400. The fees are between $500 and $600 in Montgomery and Jefferson counties.

There are usually two on-site inspections involved with the installation process. The first occurs after the soil test is complete. The inspector reviews the soil test results and approves the location of the components of the septic system. Upon completion of the project, the Health Department will perform the final inspection and issue a certificate allowing the system to be put into operation. Some counties inspect after completion of each system component, sewage pipe, septic tank, distribution box and leach fields. If the system does not pass the inspection, a re-inspection fee will be charged after proper modifications have been made.
References
Tips
Homeowners should be aware of the required inspections and make sure the contractor orders them prior to continuing work on the installation of the system.
Writer Bio
Thomas McMurchie began writing professionally in 2009 for various websites. He has written several articles about home maintenance and repair. McMurchie holds a Bachelor of Arts in education and a Master of Arts in special education.
Photo Credits
construction,contractor,foreman image by Greg Pickens from Fotolia.com
More Articles