How to Get Paid to Plant Pine Trees
The federal Natural Resource Conservation Service and some state forestry programs sponsor conservation and cost-share programs that pay private landowners to create wildlife habitat, prevent erosion and address other conservation concerns.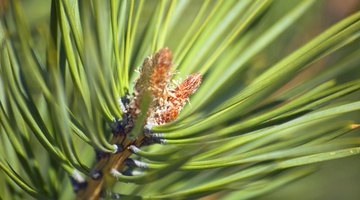 Tip
Talk with others in your area to find out about their experiences with government-subsidized tree planting programs. Also consider growing Christmas trees. Scotch pine, Virginia pine and white pine are among the most popular holiday trees grown commercially.
Warning
Before you sign contracts or accept payments, thoroughly understand any restrictions related to using your land to plant trees so you will avoid unpleasant surprises.
If the land you own qualifies--and if pine stands help achieve the program's goals in your region--you can get paid for agreeing to plant them. Government funds may also pay for part of the cost of buying trees and planting. Contracts can be restrictive, but later you'll be able to harvest trees--or harvest pine needles for sales as pine straw mulch--under the terms you agreed to when you signed up.
Gather information. Your local agricultural extension or farm management agent, Small Business Administration development program, college agriculture or forestry programs and state forestry staff are all good sources for information about state and federal tree-planting programs that are relevant for your area.

Develop a business approach, including a multi-year planting and harvest strategy. Research habitat or conservation if you own foothill or forestry lands. Think about adding multipurpose windbreaks or using marginal land, abandoned woodlots and overgrazed or otherwise damaged habitat if you own farmland. Identify the program options that support your plans.

Consider also current and likely market conditions, mill availability, growing time, out-of-pocket costs, expected return on investment and potential conflicts with other personal plans while deciding if planting pine trees will be a paying venture. Contact local small business support programs and agriculture or forestry advisers for help in completing financial projections.

Contact the state and federal agencies that offer the programs that relate to your long-term plans. Request relevant applications. Complete applications, with expert assistance if needed, from local agricultural, business or forestry agents. Submit applications in time to meet deadlines.
References
Photo Credits
pine tree image by pershing from Fotolia.com
pine tree image by pershing from Fotolia.com
More Articles