Arizona Propane Tank Regulations
According to Propane101.com, propane is a liquefied petroleum gas and is produced by refinement of raw crude oil or raw natural gas. Propane is stored in tanks as a liquid under pressure, but becomes a gas when you open the valve to use it. Many states and municipalities have their own set of requirements for propane tank installations. These regulations often include specifications such as distances at which tanks must be installed, or require permits for owners of propane tanks. Arizona is no exception.
Propane Fuel Tanks in Vehicles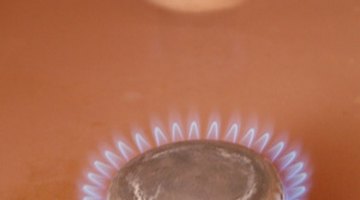 According to the U.S. Department of Energy, you have to pay license fees to the Arizona Department of Weights and Measures if you are the owner of a propane fueling device that is used for commercial purposes. Late license fee payment may result in a 20 percent penalty on the fee.
Propane Inspection Program
According to the Arizona Propane Gas Association, an inspection program known as GAS Check is practiced in the state. GAS Check was developed by the National Propane Gas Association and the Propane Education & Research Council. Two different safety inspections are done: a gas system check and a gas-appliance system check. The gas system check verifies whether components of the gas delivery system such as the regulators, containers and appurtenances are functioning correctly. During the gas-appliance systems check, the technician inspects all propane-burning appliances, and educates the homeowners how to use and maintain the propane appliances.
Permits
In Arizona, county governments decide whether house owners need permits for liquid propane gas tanks. Homeowners should contact the county building department or your local fire authority for permit requirements.
Owners of commercial sites who want to install a liquid propane tank must apply for a permit at the Arizona Department of Fire, Building and Life Safety. The owner has to submit a site plan and a fire safety analysis (if the tank is greater than 4,000 gallons) with the application.
Underground Propane Storage Tanks
In Arizona, owners of underground propane storage tanks have to notify the Department of Environmental Quality in writing of the tank's age, type, size, location and use. Underground propane storage tank installations should be done in such a way that the tank is always protected from damage. Propane tanks must be protected against corrosion and the coating maintained.
References
Resources
Writer Bio
Virtually growing up in a computer repair shop, Naomi Bolton has held a passion for as long as she can remember. After earning a diploma through a four year course in graphic design from Cibap College, Bolton launched her own photography business. Her work has been featured on Blinklist, Gameramble and many others.
Photo Credits
More Articles