How do I Convert a Kerosene Furnace Burner to a Propane Furnace Burner?
If you're interested in converting a kerosene heating system to propane, conversion costs will inevitably be high. In addition to a new burner and gas-compatible water heater, a new gas line and propane tank, removal and potential clean-up of a kerosene tank and residuals, you may have to install duct work, compatible venting and a furnace, especially if its older. While some "do-it-yourself" sites portray heating repairs and furnace conversions as elementary and enormously economical, there are serious risks, some life-threatening, to this type of do-it-yourself project. For that reason, Tim Carter, builder, contractor and syndicated columnist, cautions against any do-it-yourself heating conversions or heating repairs. The safest choice is to search for a reputable HVAC (heating, venting and air conditioning) contractor familiar in heating conversions.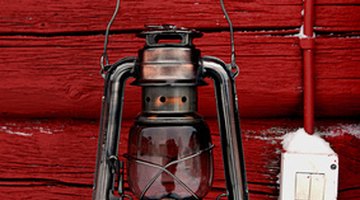 Step 1
Locate a reputable propane dealer in your area. If you live too far from a propane dealer, you may be subject to an inconsistent propane delivery schedule. If you're unsure where to begin, resource sites such as Use Propane can refer you to local suppliers.
Step 2
Research energy-efficient propane furnaces and heating systems. Review sites such as Furnace Compare that can recommend propane furnaces and offer helpful guidelines in your search. If you're installing propane as an energy-efficient cost-savings choice, consider researching high-efficiency furnaces through EnergyStar. As government resource, EnergyStar provides ratings, reviews and referrals to manufacturers. Most importantly, it can tell you if your furnace installation qualifies for a government-funded tax rebate.
Step 3
Find a reputable HVAC contractor who is knowledgeable about fuel conversions. Your best bet is to ask a friends, neighbors and manufacturers for referrals. Additionally, you should ask HVAC contractors for references from customers who have gone through a fuel conversion and can report on the work and ethical practices of the contractor.
Step 4
Ask any potential propane contract or HVAC contractor to perform a load calculation on your home. A load calculation considers the layout of your home, the number of doors and windows, insulation factors, your geographic location, climate and any other factors that might affect the efficiency of your heating system. Results from a load calculation will guide a contractor to a properly sized furnace.
Step 5
Set a realistic budget. Conversions from oil to natural gas and propane or vice versa are generally expensive. Not only are you purchasing a new furnace and burner, but expect to replace your heat pump, upgrade your venting system and potentially duct work to accommodate the characteristics of the new fuel.
Step 6
Consider venting options. If your kerosene furnace is vented through a chimney, you should have a masonry expert assess the condition of your brick and mortar. Additionally, if you don't have a chimney liner, you should research the cost and find out whether installing one is feasible. A chimney liner creates an unobstructed venting path for furnace exhaust. Additionally, it helps protect your chimney from fire hazard and makes a much easier clean-up job for a chimney sweep.
Step 7
Find a suitable location for a propane tank, one away from children, foot traffic and vehicles. An accidental collision can compromise the safety of your tank. Additionally, the propane-installation contractor will determine, based on your home's size, insulation and the necessary British Thermal Units (BTU) required to heat the home, what size tank makes sense.
References
Resources
Writer Bio
Merle Huerta, an adjunct instructor of English skills, began writing during her husband's combat deployment to Iraq in 2003. Her articles have appeared in "The Jerusalem Post," LiteraryMama.com and USA Travel Tips, among other publications. Huerta has an M.A. in instructional media and technology from Columbia University and is a graduate of CUNY's The Writers Institute.
Photo Credits
Oil lamp on a red wall image by Sergey Skleznev from Fotolia.com
More Articles