Maryland Propane Tank Laws
Homeowners living in rural areas and even some in larger cities may have propane tanks that provide a fuel source for the home. Even if you live in a suburban area, you need to follow Maryland laws regarding propane tanks for your grill. Propane tanks of all sizes must follow the codes and regulations in the state, which are designed to help prevent accidents.
Disposal of Tanks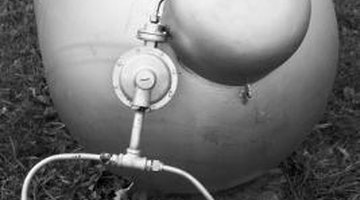 The Department of Solid Waste Management in different counties offers free days when residents are allowed to dispose of certain materials without paying any fees. Unfortunately, propane tanks are one of the items not accepted on those days. You are also not allowed to dispose of empty, full or partially filled tanks in the county dump. The Frederick County Government of Maryland recommends talking to dealers and sellers of propane tanks in your area and asking about a recycling program. Even if the company does not recycle, it should accept the tank.
Safety Features
Any propane tank sold in the state of Maryland must contain some safety features designed to prevent accidents and explosions. The QCC (quick closing coupling) connection, which resembles a large knob on the side of the tank, is one safety feature. Propane tanks purchased new should also contain a dust cap that keeps dust, debris and other small particles from getting inside the tank. You must keep all propane tanks outside the home, even if the tanks are empty.
Outdoor Storage
According to the National Fire Protection Agency, the size of the propane tank determines how far the tank must be stored from the house or any standing structures. The regulations typically relate to larger tanks, such as those used for home heating. Propane tanks that are at least 501 gallons but less than 2,000 gallons must be placed away from the home and at least 25 feet from the property line. Smaller tanks must also sit at least 10 feet from the homeowner's property line. If you use multiple propane tanks, each tank must be away from the property line.
Propane Tank Transportation
The Code of Maryland Regulations regulates the transportation of propane tanks and any other types of hazardous materials when the materials are transported on toll roads. Any vehicle that transports propane gas that contains 10 pounds in a container cannot travel on Interstate 95 or Interstate 895. The State Highway Administration requires a $25 fee for vehicles carrying propane tanks that exceed the size or weight requirements for those roads.
References
Writer Bio
Jennifer Eblin has been a full-time freelance writer since 2006. Her work has appeared on several websites, including Tool Box Tales and Zonder. Eblin received a master's degree in historic preservation from the Savannah College of Art and Design.
Photo Credits
Thinkstock/Comstock/Getty Images
More Articles