Oklahoma Mailbox Regulations
The United States Postal Service has very specific guidelines for mailbox type and placement. If you're an Oklahoma resident and need to replace a mailbox or install a new one, be aware of some important state regulations.
Mailbox Placement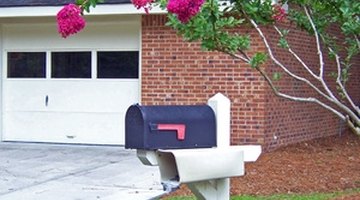 A curbside mailbox should be placed on the right hand side of the road. The mailbox door should be approximately six to eight inches from the edge of the curb or roadside so it's easily accessible from your mail carriers' vehicle. The mailbox should also be placed at a height of 41 to 45 inches from the road surface, when measuring from the road to the bottom of the box.
Approved Structures
Mailboxes that meet United States Postal Service standards can be purchased at most hardware and home improvement stores. If you want to use a custom-made mailbox, you must contact your local post office for approval. Once an approved mailbox is obtained, label it with your house number. You may also add your name, but keep in mind that letters and house numbers are required to be at least one inch in height. Advertising is prohibited on both your mailbox and the support post. The USPS does permit you to attach a separate receptacle for newspaper delivery, if desired. The receptacle should be attached to the mailbox post, not the mailbox itself, and should not interfere with the delivery of your mail.
Proper Maintenance
You are responsible for maintaining your mailbox. The area around your mailbox post should be clear of any debris, tall grass or other objects that could obstruct the view of your mailbox or interfere with mail delivery. Your mailbox post or support should be of adequate strength and be kept neat.
References
Resources
Writer Bio
Amy McClain has worked as both a feature writer and a copy editor for a prestigious daily newspaper. She also enjoys writing as a hobby and takes creative writing courses in her free time. She has worked in sales and marketing for a wireless company for over seven years.
Photo Credits
More Articles