USPS Rural Mailbox Regulations in New Hampshire
In many suburban and rural areas throughout New Hampshire, the United States Postal Service uses postal carriers in delivery trucks to deliver the mail. In order for these postal carriers to effectively deliver mail and other parcels to rural (or curbside) mailboxes, certain physical guidelines for the mailboxes themselves need to be met for the mail to be delivered as efficiently as possible.
Since the USPS is an independent agency of the United States federal government, New Hampshire does not set guidelines regarding mail delivery.
USPS Mailbox Approval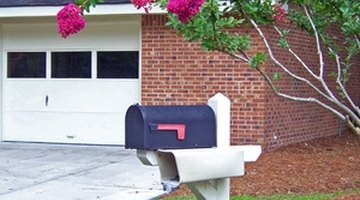 According to the United States Postal Service, they must approve all rural mailboxes in use, even those that are custom made. Any mailbox found for purchase at a retail establishment will likely be USPS approved, adhering to the size, design, material and workmanship regulations of the USPS. The mailbox will also have a USPS approval designation on an area of the box.
A custom made mailbox must conform to the same general guidelines as those that are commercially made and must be approved by your local postmaster.
USPS Rural Mailbox Installment Measurements
A rural mailbox should be installed on a support so that the bottom of the box is at a height of approximately 41 to 45 inches above the road surface, unless road conditions make the height requirement impossible. The mailbox should be positioned on the support so that the door is set back approximately 6 to 8 inches from the road edge. These regulations allow the postal carrier to reach the box without having to leave the delivery truck. Additionally, any lettering on the mailbox should be at least 1 inch high.
Additional USPS Regulations
The USPS requires that all rural mailboxes be positioned on the right hand side of the road in the carrier's travel direction. This ensures more efficient delivery as mail delivery trucks are typically right-hand drive.
Mailbox supports have no particular regulations to follow, so long as they pose no threat to the postal carrier, have no advertising posted on them and meet the height and mailbox set back requirements listed above.
References
Writer Bio
Based in New York City, Dan Gurrisi currently works in finance for a large real estate firm and has been writing since 2008. Gurrisi was an editor and writer for "Bleacher Report." He holds an Bachelor of Science in accounting from Syracuse University.
Photo Credits
More Articles