Footing Requirements for Decks in Illinois
It is doubtful that homeowners building a deck think that they need to ask permission to build it. After all, it is on a citizen's personal property. However, in the state of Illinois, a permit is required to build that deck, balcony or porch. If a person hires a contractor, they must get a separate contractor business license before they are allowed to submit a permit. Within this permit, there are many requirements as to how the deck must be constructed.
Permit Application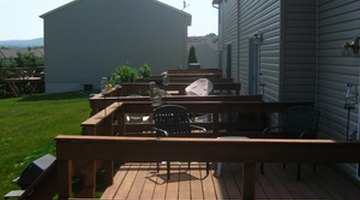 Before beginning to building the deck, the permit must first be submitted by the intended builder to the county mayor for approval. With the application there must be a couple copies of the Plat of Survey which shows the destination of the deck and square. Along with paying the $60 application fee, the piers, rough deck framing and final product must be inspected by an approved zoning inspector.
Footing Requirements
As far as footings go for decks in Illinois, they "are required for any deck attached to any building, porch or structure that has a permanent foundation" (Village of Schaumburg: Deck, Balcony, Porch Resource Guide). The footing depth for the village of Schaumburg must be exactly 42 inches measuring from the bottom of the footing to the existing grade. The footing has a minimum of eight inches in diameter. Finally, loose dirt, water and material must be removed from the hole before the footings are set. For the city of Genoa, Illinois, the footing holes must be a minimum of 8 inches in diameter and a minimum of 42 inches deep. The village of Shorewood also requires that the post holes be 42 inches in depth and 8 inches in diameter. However, they also require that the holes be filled with 2 inches of concrete, which the posts cannot be placed in, but rather attached to the top of the pier.
Other Requirements
There are many other requirements that go into making a deck. For example, all wood used to construct the deck must be decay resistant or approved material. The stairs that would accompany a deck must be a minimum of 36 inches with a maximum of 7 3/4 inches rise and a 10 inch minimum length. Handrails are also required on staircases with more than four stairs, with a height of 34 to 28 inches. Handrail size must be a minimum of 1 1/4 inches and a maximum of 2 5/8 inches. Across the state of Illinois these requirements for building an outside deck can differ from county to county, but the majority of requirements are similar throughout the entire state.
References
Writer Bio
Chris Brake has been a freelance writer since 1999. He has attained numerous graduate and undergraduate study courses involving language and the written word as a vehicle of expression. He co-wrote the feature film, "Imaginary You."
Photo Credits
More Articles