How to Get Home Windows Replaced for Free
If your home windows are in a state of disrepair, there's no need to despair. There are a number of resources available to help individuals who qualify get their broken or inefficient home windows replaced for free.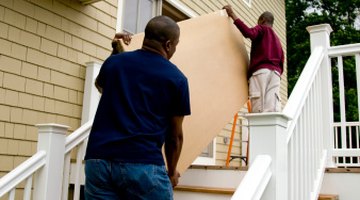 Tip
In some cities -- including Chicago, Dallas, Houston and New York -- you can call 311 to be connected to municipal service agencies. Referrals to programs in your area can be located by contacting your area 211 Information & Referral directory. Applicants for some programs may need to meet special eligibility requirements, such as income limits or having household members who are elderly, disabled or chronically ill. Seek assistance as soon as possible since funding for many programs is limited and goes quickly. For some programs, you will need to apply in person. Call in advance to find out everything you'll need to complete your application and bring all necessary materials with you. For programs that allow you to apply online, gather all documents in advance to make your application process smoother and more efficient.
Although the availability of assistance and eligibility requirements vary, there are plenty of programs around the country that exist for the express purpose of providing help to those who need it.
Locate local government assistance programs in your area. Some city, county and state governments provide grants to help residents whose homes are in need of repairs, such as replacement windows. Contact your city, county and state departments of human services, social services or housing for information about program availability.

Seek out forgivable home repair loans. Some nonprofit housing agencies, such as Neighborhood Housing Services of Chicago, offer forgivable loans that don't have to be repaid as long as certain requirements are met by loan applicants. Forgivable loans can be used to make essential home repairs, such as replacing broken or inefficient windows.

Check your eligibility for federal home repair programs. The U.S. Department of Agriculture (USDA) offers Rural Repair and Rehabilitation Grants of up to $7,500 that can be used to make repairs or improvements "resulting in the removal of health and safety hazards." The grants are available to qualified homeowners aged 62 and older who cannot repay other types of loans.

Contact the Federal Emergency Management Agency (FEMA) if your home was damaged in a natural disaster. FEMA provides grants to help residents of declared national disaster areas pay for home repairs. If your windows were destroyed or damaged due to a declared national disaster, contact FEMA immediately.

Contact the Weatherization Assistance Program (WAP) to determine whether you qualify for free windows. The program makes repairs and improvements to homes that make them more energy efficient. Free replacement windows are available through the program.
Resources
Writer Bio
Michelle McFarland-McDaniels has been writing professionally since 1983. She has written for a variety of online publications including BET.com and MSNBC.com, as well as "College Outlook" and "San Diego Family" magazines. McFarland-McDaniels holds master's degrees in African-American literature and education.
Photo Credits
David Sacks/Lifesize/Getty Images
David Sacks/Lifesize/Getty Images
More Articles