Tenant Rights About Refrigerators in Arizona
Arizona law views a landlord-tenant relationship as one in which a person or multiple people pay rent on an apartment, house or other property. Landlords are responsible for providing basic necessities in the apartment or rental property, and a renter has the right to demand those items. The issue of a refrigerator or any other appliance varies, depending on the lease.
Landlord Responsibilities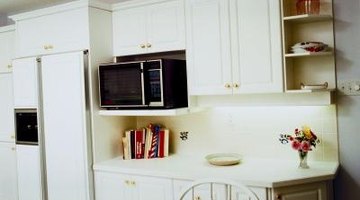 Codes A.R.S. 33 through 1324(A) cover the duties of a landlord. The code requires the landlord to provide appliances and keep those appliances in proper order. The appliances must work when the tenant moves into the building, and it's the landlord's responsibility to ensure that all appliances work as long as the tenant lives there. The landlord must also provide air conditioning or heating -- depending on weather conditions -- hot water and running water.
Non-working Order
If the refrigerator is not in working when the tenant moves into the property, or if the refrigerator stops working, then the renter has the right to request a new refrigerator. Code A.R.S. 33-1324(A) also states that the tenant may repair the appliance on her own, if the cost is less than $300 (at the time of publication), and then seek restitution from the landlord. The other option for the tenant is to contact the landlord and notify him of the repair that needs correcting. The tenant can request that the landlord refund the repair price, or else take the cost of the repair off her next month's rent.
Considerations
Arizona rental laws do not refer to any specific appliances but, rather, use the term "appliance" to refer to any provided by the landlord. The landlord is not required to provide a refrigerator, stove, dishwasher or any other type of large home appliance. Any appliances provided by the landlord must be clearly noted on the lease; for example, the lease must state that the landlord is responsible for providing the refrigerator and any other appliances. Unless the lease does not specifically mention a refrigerator, it is the responsibility of the tenant to provide one.
Tenant Responsibilities
If the landlord provides a refrigerator for the tenant, then the tenant must take care of the appliance. At the end of the rental term, the appliance should be clean and in good condition, less any ordinary wear and tear. The landlord has the right to take money out of the security deposit for cleaning or repairs of the appliance or request that the tenant pay for a new appliance.
References
Writer Bio
Jennifer Eblin has been a full-time freelance writer since 2006. Her work has appeared on several websites, including Tool Box Tales and Zonder. Eblin received a master's degree in historic preservation from the Savannah College of Art and Design.
Photo Credits
Jupiterimages/Photos.com/Getty Images
More Articles