Facts on Brazilian Pine Lumber
Table of Contents
Brazilian pine, a durable, honey-colored wood, has a straight grain and subdued growth ring pattern. It lends itself well to construction projects and has a superior ability to hold screws.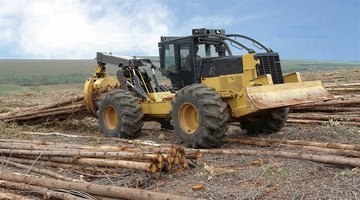 Logging
The southern forests of Brazil produce much of the pine for not only building projects, but making paper, according to Homewood City Schools Board of Education in Alabama.
Plywood
Interior and exterior applications for Brazilian pine plywood include roofing, flooring, furniture manufacturing, and joinery.
Hardness
Brazilian pine has a hardness and density comparable to American yellow pine but less than Far Eastern pine, according to Open Russia News.
Insect Resistance
Unlike cedars, Brazilian pine produces no protective natural oils that resist insects, weather, and rot.
Care
Applying a finish like Murphy's Oil to the wood one to two times a year will help maintain its appearance and prevent it from degrading.
Brazilian Production
According to the U.S. Forest Service, growing pine and other trees in Brazil cost over 50 percent less in recent years than in the U.S. because the climate promotes faster growth and harvest. In addition, land rents for less.
Writer Bio
Lexa W. Lee is a New Orleans-based writer with more than 20 years of experience. She has contributed to "Central Nervous System News" and the "Journal of Naturopathic Medicine," as well as several online publications. Lee holds a Bachelor of Science in biology from Reed College, a naturopathic medical degree from the National College of Naturopathic Medicine and served as a postdoctoral researcher in immunology.
Photo Credits
ValterCunha/iStock/Getty Images
ValterCunha/iStock/Getty Images
More Articles