Chinese Hardwood Flooring Vs. Canadian Hardwood Flooring
Consumers in the U.S. often explore and purchase hardwood flooring from a neighbor to the north and one far away in another continent. Canada, the U.S. neighbor to the north, is home of the maple and a leading exporter of hardwood for use in homes and buildings. Cargo ships embark from docks in China filled with engineered, laminate and exotic hardwood flooring. Factors involved in making the final decision on purchasing hardwood flooring from China or Canada typically center on cost and quality.
Canadian Hardwood Flooring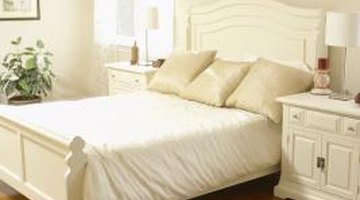 A favorite choice for those who are looking for durability is Canadian hardwood flooring. Canadian Maple, in particular, is sought after for its hardness and dependable quality. Over time, the color will change from light white to a honey coloration as the wood ages. The grain is not as pronounced as with some other species; however, the flooring has uniformity in its appearance. Additional wood maple species imported from Canada include Nova Scotia, Ontario, Victoria and Vancouver. Canada also exports engineered and solid hardwood planks made of oak, cherry and birch.
Chinese Hardwood Flooring
Chinese hardwood flooring is favored by budget-conscious consumers. Not uncommonly, prices are three dollars per square foot less for imported Chinese hardwood flooring in comparison to imports from Canada. Chinese hardwood flooring falls into two categories: engineered or "exotic" solid wood flooring. China actually imports much of its raw hardwood lumber from North America, South America, Europe and Africa and then converts the lumber into hardwood. Types of imported engineered, laminate and solid woods from China include hickory, walnut, oak, birch and Chinese maple. Exotic exports from China include engineered, and many Chinese imports are engineered. While the flooring is not a real hardwood, many consumers look to bamboo flooring imported from China as an eco-friendly alternative flooring substance.
Impact on the U.S. Economy
The decision to purchase imported hardwood flooring versus domestic flooring produced in the U.S. does have an economic impact. Every dollar spent on imported products is one less dollar that goes to a U.S. manufacturer and employees. However, cost is an understandable attraction to imported products, particularly those from China, which are generally less costly than either U.S. or Canadian hardwood products. According to data published by the Hardwood Plywood and Veneer Association, engineered and hardwood veneer products from China cost 30 to 40 percent less than similar U.S. products. "We have a relative even balance of trade of these products with Canada and a $5 billion trade deficit imbalance with China," states C.T. "Kip" Howlett, Jr., president of the Hardwood Plywood and Veneer Association. In 2010, the Coalition for American Hardwood Parity (CAHP) filed a petition with the U.S. Congress to levy import duties on engineered hardwood flooring imported from China.
Global Environmental Sustainability
In 2008, Congress passed the Lacey Act, banning the sale and importation of illegally sourced plants and products, which includes hardwood flooring in the U.S. Compliance and verification of sources used in manufacturing hardwood flooring is led by the Forest Stewardship Council (FSC). Canadian manufacturers have demonstrated full compliance and disclosure of sources. However, there is some concern by the FSC and the Environmental Investigation Agency (EIA) about the authenticity of named sources from several foreign countries, of which China is one.
References
Writer Bio
Cheryl Munson has been writing since 1990, with experience as a writer and creative director in the advertising industry. She holds a Bachelor of Arts in journalism with a focus on advertising from the University of Wisconsin in Madison.
Photo Credits
Jupiterimages/Photos.com/Getty Images
More Articles