How to Identify Stickley Brothers Furniture
Five Stickley brothers from Osceola, Wisconsin, collaborated and competed in nine different companies from 1883 until 1974 -- when the last Stickley manufacturing firm was sold to an enthusiastic dealer whose family continues to produce the distinctive furniture today under the name L.&J.G. Stickley. The eldest brother, Gustav -- an architect, furniture designer and publisher of an influential magazine, "The Craftsman" -- introduced the Arts and Crafts movement in America around 1900. Thought to be based on the sparse furnishings of California missions, his simple, functional designs were usually executed in oak, so the style became known as Mission Oak or Craftsman-style furniture. His brothers all produced similar work over the years, but Gustav's pieces are the most prized by collectors and bring the highest prices.
First Stickley Shop Marks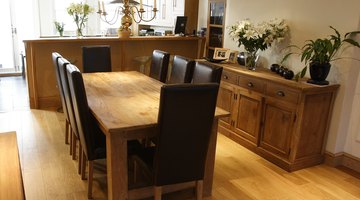 Collectors use shop marks to help identify the age and place of origin of a particular piece of Stickley furniture. Stickley shop marks that identify their many companies take the form of burned-in brands, metal tags and medallions, paper labels and decals. In 1902, Gustav was the first brother to mark his furniture from the United Crafts Company with his logo, a furniture joiner's compass combined with the phrase "Als ik kan," meaning "to the best of my ability," and his signature. This shop mark appeared as a wood-burned brand, as a decal and, finally, on a paper label.
Competitor Shop Marks
During the same time period, Gustav's brothers, Leopold and John George, started their own company and marketed themselves as the Onondaga Shops, sometimes in combination with the words L.&J.G. Stickley, Fayetteville, N.Y. Eventually, their shop marks evolved to feature the word Stickley as the dominant element in the design. The L.&J.G. Stickley Company is the one surviving Stickley entity.
Stickley Companies
Each Stickley company had its own logo and shop mark, which aids collectors in identifying the provenance of a particular piece of furniture. The Stickley companies include the Stickley Brothers Company, in business from 1891 to 1892; the Stickley and Brandt Chair Company, 1891 to 1918; the Stickley Brothers Furniture Company of Grand Rapids, Michigan, 1891 to 1947; L.&J.G. Stickley, 1900 to present; Stickley & Simonds Company, 1891 to 1898; the Gustav Stickley Company, 1898 to 1900; United Crafts, 1900 to 1904; Craftsman Workshops, 1904 to 1916; and Stickley Associated Cabinetmakers, 1916 to 1918.
Style and Craftsmanship
Early Stickley furniture is the epitome of the Arts and Crafts style. It celebrates functional design, simplicity of form, clean, unadorned wood -- usually oak -- and exceptional craftsmanship. The furniture demonstrates sturdy construction and clear finishes. Fabrics on antique upholstered pieces were also simple, either dyed leather or cotton canvas. In the 1920s, L.&J.G. Stickley shifted away from the Arts and Crafts style to produce reproductions of early American designs featuring more curved lines and ornate forms. They also used woods other than oak, such as cherry.
Construction Details
Stickley furniture companies used time-consuming and distinctive construction techniques to craft their products. These techniques help identify authentic early Stickley pieces. For example, most door joints are tenoned, glued and pinned in place with wooden pins. Many door panes are re-sawn and book-matched to reveal the natural beauty of the wood. Mirror corners are splined, making them virtually indestructible. Dove-tailed cross rails strengthen cases from side to side. Tongue and groove joints allow for greater finished thickness on tops. The use of wooden pins in chair joints ensures long-term strength.
References
Resources
Writer Bio
Melanie Aves has more than 30 years writing experience. Aves coauthored four interior design color books, authored a book on Newport Beach, California, wrote newspaper features and currently writes monthly magazine features. She holds a Master of Arts degree, a certificate in interior design, and completed post-graduate studies in journalism.
Photo Credits
Mark Yuill/Hemera/Getty Images
More Articles