How to Date Noritake Dinnerware
One of many Japanese manufacturers to export china to the United States during the 20th century, Noritake has remained popular throughout. Its recognition grew when its ceramics were premiums given by a soap company in the '30s. During the period just after World War II, occupying American forces sent the tableware home and Noritake's wares spread. Since that time, the durability, beauty and appeal of Noritake china have not diminished. If you have picked up or inherited a piece of Noritake, it is relatively easy to determine its approximate age.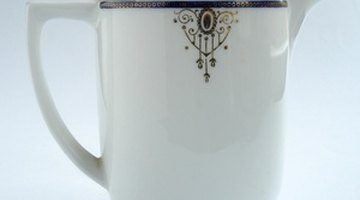 Find the marks on the backs of your pieces of Noritake china. Beginning in 1904 in Japan, the manufacturer did not use the trade name Noritake, but (along with other Japanese manufacturers) marked the china and pottery only with the word "Nippon," to indicate its country of origin. From 1914 to 1940 some products were stamped with the letter "M" surrounded by a wreath, according to Gotheborg.com. The "M" represented the Morimura Brothers import company, which launched Noritake.

To determine the dates of these early products, consult a catalog of backstamps used by Noritake. Guides, both in book form and on the Internet, will picture the various marks used by Noritake along with the dates each backstamp was used--from earliest production until the company was absorbed a conglomerate in the 1980s.

Photograph or sketch the china pattern as well as any markings on the back of the piece if the pattern has not yet been identified or dated. Search the many websites devoted to Noritake sales and research. If a piece cannot be identified by the maker's marks on that back, you may be able to date it by the pattern on the face of the piece. There are websites that let the user scoll through images of china patterns by maker to identify pattern names.

Further consultation with china or antiques dealers may provide more information than can be readily found online--some dealers may volunteer to identify and date a pattern if asked.

Search for a 1930s catalog from a Buffalo, New York, soap manufacturer called the Larkin Company. This company awarded pieces of Noritake china as prizes or premiums for buying certain of the company's soap, beauty and cleaning products. The Larkin Company published catalogs of the Noritake patterns available.

Consult a book devoted to identifying and dating Noritake patterns. Guides to Noritake dinnerware and Japanese pottery and china include full-color photographs with dates of numerous pieces. These guides may also contain line drawings of patterns as well as maker's marks.

Contact Noritake. The Noritake company is still in business today--though under different ownership. Its website includes a list of retired patterns as well as a contact form for requesting information about finding replacement and additional pieces of vintage Noritake dinnerware.
References
Writer Bio
Karen W. Waggoner is a retired teacher and lifetime scribbler. She has published short stories, essays in anthologies and periodicals. Waggoner is the author of the memoir, "On My Honor, A Navy Wife's Vietnam War." She is a graduate of Stetson University, the University of Connecticut and Christian College for Women.
Photo Credits
More Articles