How to Identify a Real Gorham Silver Candlestick
Founded in 1831, Gorham Silver has a long history of making fine silver. Some of the company's early pieces included jewelry, combs, sewing thimbles and other small household items.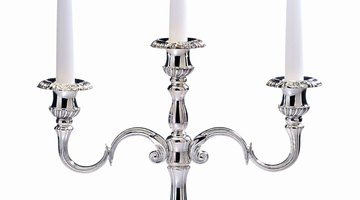 One of the largest American manufacturers of silver-plated items, sterling silver and bronze sculptures in its day, the Gorham Corporation became well known for silverware, stainless steel flatware -- still being made today -- and silver candlesticks. You can identify real Gorham candlesticks by specific hallmark and date markings that clearly distinguish them as authentic Gorham pieces.
Cleaning First
Give the candlestick a light cleaning because it may be difficult to identify if any surface dirt or heavier dirt settled in the grooves of a hallmark, date or other identifying symbol. Use mild soap and water or silver cleaner if the candlestick contains heavy tarnish. Utilize a moist cellulose sponge to apply the polish, rinsing frequently to remove the black tarnish stains from the sponge. Rinse again when finished; dry immediately. After cleaning, attempt to locate the identifying marks on the candlestick.
Hallmarks
Gorham used specific house marks or hallmarks to identify their sterling silver and silver-plated pieces beginning in 1848. These identifying markings indicate an authentic Gorham-made candlestick. Examine the candlestick to locate the markings. If you discover a lion next to an anchor and letter "G," pay attention to which direction the lion's head faces. In real Gorham silver made between 1848 through about 1868, the lion's head faces left. A block letter "G" further identifies the candlestick as being an earlier piece. If the lion's head faces right, Gorham made the candlestick in later years. The word "Trademark" above the anchor and "Sterling" beneath the anchor identifies the candlestick as made after 1853.
Year Marks
Gorham started applying year marks in 1868 to identify the manufacturing year of its products. The first mark was the letter "A." The company utilized the next letter of the alphabet in successive years, ending with the letter "Q" in 1884. When you find a letter -- in addition to the Gorham hallmarks -- it dates your candlestick to the appropriate manufacture year. Gorham applied other marks to silver after 1884.
Identifying Date Markings
From 1885 through 1933, Gorham employed a symbol to date silver candlesticks instead of a number. A different symbol denotes each year. Consult a "Gorham Marks and Date Codes" chart to locate the symbol imprinted on your silver candlestick. If you notice a wolf's head on your candlestick, its manufacture date occurred in 1885, while a parachute mark designates it as a 1933 manufactured item. Gorham discontinued date markings from 1933 through 1941, but they appeared again after that date with only a geometric cartouche to denote the decade of manufacture (see Resources).
References
Resources
Writer Bio
Donna Hicks has been a writer for more than 20 years. Specializing in culture and history, legal, antiques and home decor, she enjoys writing on nearly any topic. She has won numerous writing competitions and has been published in print as well as extensively online.
Photo Credits
Brand X Pictures/Brand X Pictures/Getty Images
Brand X Pictures/Brand X Pictures/Getty Images
More Articles