How to Identify Brand of Dining Room Furniture
Identifying the brand or manufacturer behind your dining room furniture becomes important when you break a piece or need a replacement part. Determining who made the piece will also reveal the value of the piece. Furniture made by well-known manufacturers or designers, as well as antique dining room furniture often has a high price attached to it. Identifying the brand often involves finding a manufacturer's label.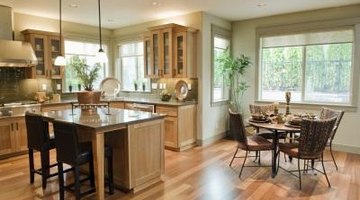 Turn the dining room table over and check the bottom for any type of label or identifying mark. Check the leaf, if the table has one and also check the table legs. If you find a serial number or signature, write that down as well.

Check the bottom of the chairs for any type of furniture label. If the chairs have cushions or upholstery, remove the seats and look at the underside of the seat and at the fabric. The brand or manufacturer label may be hidden underneath the fabric.

Open any drawers on the dining room pieces, including hutch drawers. On hutches and cabinets, the brand or manufacturer label is sometimes placed behind cabinet doors and on the drawers. Look at both the bottom and top of the drawer, as well as behind each one.

Look through furniture guidebooks and websites to find pieces similar to your dining room furniture. "The Bulfinch Anatomy of Antique Furniture" and "Field Guide to Antique Furniture" show color pictures of different furniture styles. Connected Lines offers descriptions of different furniture styles and sketches of what the pieces look like.

Pay for a professional appraisal of the dining room furniture. A professional appraiser visits your home, examines the furniture and gives you information on the manufacturer, brand, date of construction and any changes made to the pieces.
References
Tips
Online appraisals are often cheaper than hiring an appraiser to visit your home. With online appraisals, you send digital photographs of the furniture and receive a professional description of the furniture.
Writer Bio
Jennifer Eblin has been a full-time freelance writer since 2006. Her work has appeared on several websites, including Tool Box Tales and Zonder. Eblin received a master's degree in historic preservation from the Savannah College of Art and Design.
Photo Credits
Jupiterimages/Comstock/Getty Images
More Articles