How to Identify a Stainless Flatware Manufacturer by Their Marks
Identifying stainless flatware manufacturers can be a little tricky. Vintage manufacturers did not have a standard method for marking their stainless flatware and some marked only the pattern name but not the company name.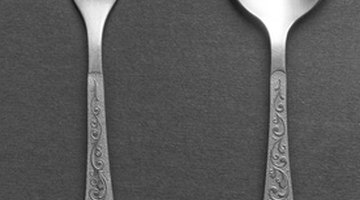 Tip
If you cannot identify the flatware manufacturer at this time, it may be possible in the future. Museums have tens of thousands of documents that have not been read and sorted. As collectors go through these documents, more knowledge about vintage flatware manufacturers may become available.
Quality stainless flatware frequently increases in value as it passes from one generation to the next and identifying its maker is the first step to determine the value for insurance purposes or to replace any missing pieces. Please be aware that collectors have not identified all manufacturers. Some vintage producers were individuals or small family shops and there is no surviving record of their marks.
Check the larger pieces in the set for identifying marks. In addition to looking on the handle, check both sides of the fork tine, the back of the soup cradle and the blade of the dinner knife. Smaller pieces, such as the butter knife, may not be marked.

Visit one of the Internet websites for flatware collectors, such as Online Stainless (see References) and try to match your symbols with the manufacturers in their database.

Look through flatware pattern books in the reference section of the public library to match your pattern with a known manufacturer. It is helpful to take a close-up photo of the pattern with you.

Contact a flatware collectors club in your area and ask if someone can help you with identification. Sometimes they will provide contact information on a local collector or they may ask that you leave your information with them, and your request will be announced at the next club meeting.

Visit an antique dealer in your area who specializes in flatware. You can locate one by visiting the U.S. Antique Dealer web site (see References). Scroll to the middle of the page and click on your state. The dealer may be able to immediately identify a more commonly-known manufacturer. You may have to pay a fee, however, if the dealer needs to research the mark for you. The upside is that you may have a rare set of flatware.

If you cannot clearly identify the markings, then try to match your pattern with one of the 5,000 patterns in a collector's book named "The Stainless Flatware Guide" by Page and Frederiksen. The photos are very detailed and may be helpful to you. More than 250 manufacturers are included in the book.
References
Writer Bio
Diane Perez is a writer who contributes to various websites, specializing in gardening and business topics, and creates sales copy for private clients. Perez holds a Bachelor of Science in education from the University of Miami.
Photo Credits
dinner fork and spoon image by Stepanov from Fotolia.com
dinner fork and spoon image by Stepanov from Fotolia.com
More Articles