Gazebo Roof Ideas
Many people build or purchase gazebos for their backyards so they can enjoy the benefits of being outside, with some form of protection from the elements, such as rain or snow. Gazebos can be standalone structures or as a covering for spas and hot tubs. They can be made of many different types of materials and can serve several entertainment purposes. Choosing the best roof depends on the local climate and the homeowner's needs.
Roof Designs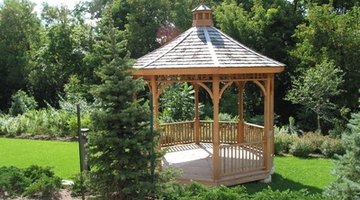 There are several types of roof designs to create specific interior looks. Some people have two-tier roofs, which are smaller roofs positioned on top of the regular roof to give the structure height. Another type of gazebo roof design is the square hip roof, which is when the peak of the roof is exactly in the center and all four sides of the roof have an equal slope.
Wood
Traditional gazebo roofs are typically made from wood, because they complement the wooden gazebo structures. Wooden roofs can be shingled, providing coverage from the sun and precipitation. They can also be trellised, which allows sunlight to filter through. Many people decorate wooden roofs by covering them with vine plants, such as ivy or grapevine, and adding small lights to the roof interior.
Metal
Some people use metal, including aluminum and steel, for their gazebo roofs. A roof made from metal is often more expensive than other building materials, but usually has a lifespan of at least 25 years, and is durable and lightweight. Metal roofs can also be designed to look like tile and slate.
Glass and Plastic
Homeowners who enjoy stargazing from their gazebos can install glass-paneled or acrylic plastic roofs. Both materials can be UV-resistant and protect users from harmful sun exposure during the day. Glass roofs are commonly used for glass gazebo structures, and they can be domed or flat. They are heavy, durable and one of the most aesthetically pleasing types of materials used in gazebo roofs.
Plastic gazebo roofs are shatterproof, lightweight and come in a variety of thickness levels. There are many styles and colors to choose from, so homeowners can coordinate their outdoor decor with the roofing material. Plastic scratches easily, so many people do not use this type of roof material directly next to trees.
Fabric
Fabric roofs are used for both permanent and temporary gazebo structures. Fabrics come in many different types, including canvas, painted duck, dyed duck and acrylic. Some styles are vinyl-coated, which helps to waterproof and mildew-proof the material. Many people use mosquito netting during the spring and summer, especially with spa and hot tub gazebos.
References
Writer Bio
Denise Brandenberg has more than 15 years professional experience as a marketing copywriter, with a focus in public relations. She also worked as a recruiter for many years and is a certified resume writer. She holds a Bachelor of Arts in English.
Photo Credits
More Articles