Japanese Pergola Design Features
Japanese pergolas are outside structures built to mark the transition from one structure, garden or lawn area to another, to provide support for climbing plants or to cast shade over a walkway. Pillars, crossbeams and lattice work are constructed in a variety of materials and can connect buildings, serve as an extension to a building or protect an open terrace.
Materials Used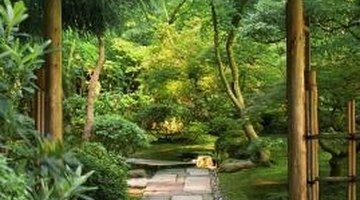 The Japanese have traditionally used stone to build their pergolas. The most common materials used today are wood, metal or plastic. Wood is the most popular material choice, and an important consideration is the type of wood chosen. Redwoods, such as cedar, are good choices because they are naturally resistant to insect infestations, rot and decay. They do not need chemical treatment. This consideration becomes important if the Japanese pergola is to support climbing plants. Treated woods contain poisonous chemicals which can harm or kill plants.
Plastic has advantages as basic material for the pergola because it is highly durable and will not decay. A good choice is a high-density vinyl that is UV resistant so that it does not discolor when exposed to the sun's rays. Metal pergolas are more expensive and more durable, but the common choice, cast iron, is heavy and will rust. Aluminum can be a better choice, but its hardness must be rated T-4 or higher.
Style of the Structure
Japanese pergolas are built in a traditional style as an arbor with horizontal crossbeams supported by pillars and containing open lattice work. There is typically a covered walkway or pavilion. This may be freestanding or connected to a house or building.
This covered area provides relaxation in the shade and allows with its open walls enjoyment of the surrounding garden. This area, especially the roof, is shaded with thick vines which soften the appearance of the pergola.
A Japanese pergola has a floor made of wood or stone. The seats are usually built into the pergola, with a table, permanent planters and flower containers optional.
Outdoor lighting is important; using Japanese lanterns for soft light adds to the atmosphere of the pergola. Tatami floor mats, Japanese screens, bamboo, azaleas and carefully trimmed pine trees highlight the Japanese structural elements.
Location
The pergola can have a prominent place in the center of the garden, or be constructed next to a pool or the house, or be a formal entrance to gardens or a larger backyard area. A pergola may be the focal point of a garden; consider its location in reference to the sun, depending on whether you wish the sun to cast artistic shadows or if you'd prefer shade for coolness.
References
Resources
Writer Bio
Francine Juhasz has a doctorate in clinical psychology and is a Qi Gong and yoga teacher, health and nutrition freelance journalist and featured self-help and life-skills speaker. For more than 30 years she has conducted programs, workshops, seminars and private counseling sessions in emotional, mental, marital and sexual health and fitness in universities, elder-care communities and community centers in both the U.S. and Europe.
Photo Credits
Lobsang Studio/Creatas/Getty Images
More Articles