Types of Verandas
A veranda should provide a welcoming outdoor spot for you, your family and your friends to enjoy. A beautiful veranda does not just add aesthetic appeal to your home; it can provide a great spot for entertainment, boost the value of your home and provide additional space for a growing family. However, when faced with the exciting challenge of building a veranda, you must first choose which type of veranda will best complement your home and your ideal uses.
Curved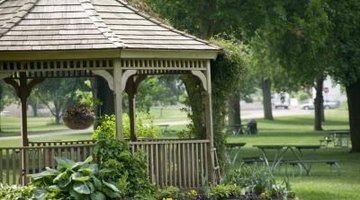 The curved veranda provides a contemporary addition to your home. It boasts smooth, clean and curved lines to form a convex canopy over the outdoor living space. The curved veranda can be attached to a home or freestanding. Furthermore, it can be combined with both the flat and pergola verandas to create a unique design aesthetic. If combined with another veranda style, the curved veranda is generally constructed as the central piece of the entire veranda design.
Flat
The flat veranda design is the most simple to construct, as well as the most versatile. A flat veranda can be constructed to fit and complement just about any outdoor space. It can be built to any desired dimensions, and like the curved veranda, the flat veranda can be attached or freestanding and can be added to other veranda designs.
Pergola
The pergola veranda creates an open air, outdoor setting that will let in light while still adding shade and aesthetic appeal to a home. The roof of the pergola veranda is slotted. Therefore, it is best utilized in dry, sunny climates. Some pergola verandas can be outfitted with a screen that will serve to block more sunlight and any leaves or debris.
Gable
The gable design exhibits a sloping roof line that provides a nice aesthetic change to the existing roof line of a home. The roof of a gable is solid and is often constructed out of clear roof sheeting to provide a sun-room effect. The pitched, gable veranda is typically combined with a flat veranda to provide increased coverage for the outdoor area.
Gazebo
The gazebo design adds tremendous charisma to any outdoor space. Most often, the gazebo veranda is built as a stand alone structure. Its characteristic design element is a vaulted roof. The unique roof design, and its freestanding form, provides the constructor of gable verandas with a multitude of design options from various base designs, such as octagon to square, and roof designs with both open air and closed air elements.
References
"Patios, Porches, and Verandas"; Ana G. Canizares; 2006
"Patios and Verandas"; Editors of Elle Decor; 2003
Photo Credits
Jupiterimages/liquidlibrary/Getty Images
More Articles